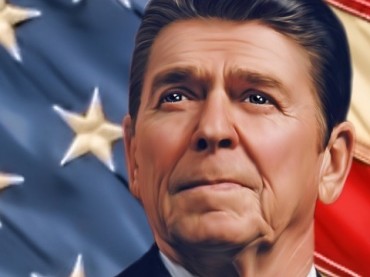 A UCLA student is calling for President Ronald Reagan's name to be removed from the UCLA Medical Center, calling him "disturbingly racist" and arguing he did not address AIDS fast enough.
Founded in 1955, UCLA Medical Center became Ronald Reagan UCLA Medical Center in 2008, according to its website.
"[A]s long as the hospital is associated with a figurehead whose actions were adversarial to health equity for people of color and members of the LGBTQ+ community, these efforts to curb bias in health care ring hollow," student Sophia Kloster argued in the Daily Bruin.
She cited then-Calif. Gov. Reagan's 1971 phone call with President Richard Nixon, when he called shoeless African delegates at the United Nations "monkeys." She also chastised Reagan for not confronting AIDS from the White House until 1985.
"It is hypocritical for the center to preach equity for people of all sexual orientations, races and ethnicities while simultaneously carrying the name of a president whose actions undermined those values and led to the deaths of thousands," Kloster wrote.
This is not the first time President Reagan has come under a cancelation attempt on campus.
Last year at Chapman University, students demanded a bust of Reagan be removed. And in May of this year, a Georgetown University student began a Change.org petition to rename Ronald Reagan Washington National Airport for "Dance Moms" star JoJo Siwa.
Reagan has long been a target of academia. For example, a textbook used in the past at USC argued Reagan "ascribed to women primarily domestic functions and failed to appoint many women to significant positions of power during his presidency."
MORE: At Chapman, effort to remove Reagan, Thatcher and Rand busts meets resistance, divides a campus
Like The College Fix on Facebook / Follow us on Twitter