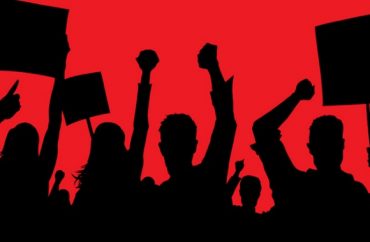 UPDATE
Her presence threatens all black students on campus?
If you accidentally send a text with a racial slur, can you be punished for it?
That's the question at Georgia Southern University, which is facing student anger over a private text conversation that went viral after it was leaked on social media.
BuzzFeed News obtained screenshots of the exchange, which it said started with a black female student texting an introduction to her new white roommate.
After some chit-chat, the white female student sends a text that appears to be intended for a mutual acquaintance, Hannah: "Her [Instagram profile] looks pretty normal not too niggerish."
The white student quickly responds to the black roommate "damn spell check" and claims she meant to write "triggerish" to Hannah, "meaning like you seemed really cool nothing that triggered a red flag! I'm so embarrassed I apologize."
Interim President Shelley Nickel, who has been in the job less than a month, released a statement Friday morning saying the community has expressed "hurt" following the leak of the private conversation on social media.
It was worded vaguely enough to suggest that the white student could be punished:
The use of such racist comments is offensive and unacceptable and in no way reflects the attitudes or values of Georgia Southern University. To be clear, there is no place for bigotry or racism on our campuses. …

We stand for awareness, acceptance and tolerance and expect nothing less from our students, faculty, staff and community.
Message from Georgia Southern University President Shelley C. Nickel: pic.twitter.com/96MvMOfMu0

— GeorgiaSouthern (@GeorgiaSouthern) July 20, 2018
Nickel's statement drew dozens of responses over the weekend. One claimed that the white student's text violates the student conduct code's prohibition of "fighting words" and demanded the university "enforce its code of conduct."
Several asked the university to say whether it was punishing the student, many calling for her suspension or expulsion. One said she was still a member of the swim team, making it doubtful she had been punished. Several named her and one included a screenshot of her Facebook profile, which has vanished.
On Monday, The Atlanta Journal-Constitution identified the white student as Courtney Schaefer but did not identify the black student. Heavy said the roommate "goes by Nwamaka." (A Twitter user told Nickel that Schaefer's presence on campus threatens all black students.)
You need to expel Courtney Schaefer or you endanger the countless black people on your campus n infringe on their quality of education Im sure Nwamaka isnt the first of your students to encounter her racism and,by keeping her on campus you are ensuring that she won't be the last.

— Dumebi ♥ (@dumebienemor) July 22, 2018
Students Marah Giddens and Alexandria Duvet told the Journal-Constitution they want a clear answer from Nickel on Schaefer's punishment:
"These things have been happening on our campus and campuses all over the country," Giddens said. "If someone isn't punished for their racism and bigotry then what will ignite a change?"
The George-Anne reported Friday that the black student "requested for both students involved to not be named in this article."
Another black student, Daijah Morrison, saw the exchange in a private group on Twitter and then shared it on Facebook, where it drew more than 500 shares and hundreds of comments before it was deleted, according to The George-Anne:
"I had to help it spread like wildfire.I just felt one step closer to the goal: raising awareness, spreading positivity over the hate and using my [small] virtual platform to make a change for the better." …

"I believe the black community needs reassurance that there's zero tolerance for hate speech, racism and prejudice," Morrison said. "There's been a history of these situations here at the university, so it would be lovely to hear that our administration is accepting and tolerant to all."
University media relations has not answered College Fix queries about whether Schaefer may face or is currently facing a disciplinary investigation, what policy or policies she might have violated, her rights under any investigation, and whether her roommate filed a complaint against her or is considered a victim under campus policy.
Dean of Students Patrice Johnson told The George-Anne Friday that the Family Educational Rights and Privacy Act bars it from commenting on student records.
This may not be correct. As of Friday, Schaefer's name does not appear to have been reported outside of social media, so the university's comment on a student whose identity had not been verified would not violate FERPA.
The Foundation for Individual Rights in Education gives Georgia Southern a "red light" speech-code rating, meaning at least one policy "both clearly and substantially restricts freedom of speech."
The university has a "bias incident report" policy that encourages both victims and witnesses to report bias, including anonymously. FIRE rates this a "yellow light" policy that is vague enough to be abused. Its harassment policy, which mentions "fighting words," actually gets FIRE's highest "green light" rating as a policy that does not "seriously imperil speech."
Will Creeley, senior vice president of legal and public advocacy at FIRE, told the Journal-Constitution that Georgia Southern was "bound to uphold the First Amendment on campus" as a government actor, so Schaefer's text might be "protected speech."
But if she keeps using the slur or "does other things to that student [Nwamaka] that makes it unreasonable for that student to continue to use the dorms or attend the university, then you've established a hostile environment," Creeley said.
In response to Fix questions to Coach Amanda Caldwell and Assistant Coach Kristin Walker about Schaefer's place on the team and its policies around athlete behavior in non-team settings, an athletics spokesperson showed The Fix the 2018-2019 swim team roster. Schaefer is still on it as of Tuesday afternoon.
Read BuzzFeed, Journal-Constitution, George-Anne and Heavy coverage.
UPDATE: An athletics department spokesperson responded to a query from The Fix. The answer has been added to the article.
h/t Inside Higher Ed
Like The College Fix on Facebook / Follow us on Twitter