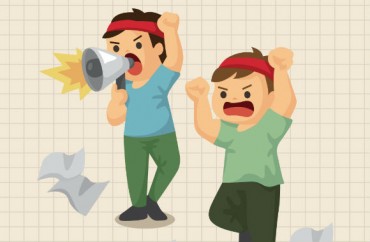 'There's no room to ratchet it up if you always start at 11'
PHILADELPHIA – Following a breakout year for campus activism, protesters face the risk that they complain so often – and about such minor issues – that their peers tune out otherwise worthwhile causes, according to students at a free-speech conference this weekend.
Some activists are making noise for the sake of attention, often to the detriment of the causes they represent, they said at the Foundation for Individual Rights in Education's annual summer conference.
In a session on the keys to successful activism, one student attendee related a campus incident where Palestinian activists asserted that hummus made by Sabra contributed to Palestinian oppression. (Sabra's parent company is based in Israel.)
MORE: Student activists whine about 'strain' of balancing schoolwork, protests
The activists made a cooking tutorial video, like this one, comparing the Israeli government to the ingredients in Sabra, according to the student.
The Philadelphia-based FIRE, which defends unpopular speech on college campuses, is apolitical. But its legislative and policy director, Joseph Cohn, believes certain activist groups still have much to learn about subtlety.
When students at Oberlin College complained that their college's campus dining options amounted to "cultural appropriation" of ethnic food in December, this "was met with a collective yawn from most of the literate universe," said Cohn, leading the Saturday activism session.
MORE: Colleges have always botched ethnic food
Asked by Cohn who had seen an activist group on their campus overhype a minor issue for attention, nearly every hand went up.
Without filters, Cohn said, activists "risk that you will be perceived as someone who cannot tell the difference between what is important and what is not important" – like The Boy Who Cried Wolf from Aesop's Fables.
"Tone really matters," said Cohn.
Several self-described activists in the session described being turned off by movements that they supported, such as Black Lives Matter, because of the tactics used by some advocates.
Goucher College student John Holder said he was turned off by anti-Israel and LGBTQ activists who disrupted a November film screening on campus. A documentary about coming out as gay in Israel, the film was made by gay Israeli television personality Assi Azar, who also hosted the Goucher screening.
MORE: Students 'don't choose' to become activists, need more mental health services
Holder, who is gay, disagreed with the protesters' charge that Azar was "pinkwashing."
"We have seen time and time again that protesters abuse [their right to protest] to censor people," said Holder, calling himself "absolutely not convinced" by their disruptive tactics.
Cohn said that protesters have a right to decide their own tone and level of discourse, but their success will be ultimately be determined by their choice of a proportionate response.
"Don't start at 11," Cohn said, referring to the 1984 rock music mockumentary This Is Spinal Tap. "There's no room to ratchet it up if you always start at 11."
EDITOR'S NOTE: The author's travel expenses were subsidized by FIRE.
MORE: Oberlin students demand to be paid to protest
Like The College Fix on Facebook / Follow us on Twitter
IMAGE: notkoo/Shutterstock, Foundation for Individual Rights in Education