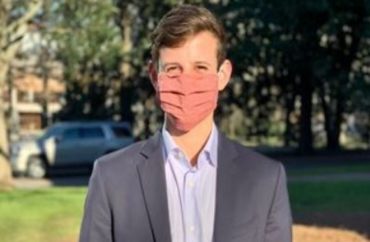 UPDATED
A lengthy piece in Medium tells the cautionary tale of Jordan Gould, a student at Vanderbilt University whose name and life was dragged through the mud recently by a campus mob.
Gould, in a self-penned piece headlined "When the Social Justice Mob Came for Me," explains that he withdrew from running for student president after he was accused of being a white supremacist in a vicious and unfounded attack on his character.
Gould began his March 30 piece by spelling out his bonafides as someone who cares deeply for his fellow students. He came to the prestigious university from a Jewish middle-income family in Miami. He was offered a full scholarship.
In addition to working two jobs and maintaining a 15-hour course load, he wrote that he joined the student government's Economic Inclusivity Committee to help fellow low-income students.
In that role, he stated that he helped "persuade the school to stop charging for laundry in the dorms," organized a winter break housing assistance program amid COVID, secured free campus parking for COVID testing, and backed a refrigerator rental service to create jobs and funds scholarships.
"Even though I'm not from a wealthy family, I realize I do have privilege," Gould wrote. "And I use my privilege to help underserved members of our community. Not in platitudes, but in action."
"In my free time, I volunteer at Dismas Half-Way House to teach basic computer and resume skills. And in Nashville this past summer, in solidarity with my friends of color, we protested the loss of Black lives at the hands of police violence."
He was encouraged to run for student president, he wrote, and so he did.
That's when the mob came for him, Gould wrote:
On the first day of public campaigns, everything changed. The student paper posted an article with my picture that detailed my fraternity involvement. Because most of my service during COVID-19 was virtual, few students at Vandy knew anything about me. They knew I was a junior and of my work for financial inclusivity, but they had no reason to know I was white, Jewish, and in a fraternity.

Suddenly I started to get tweets and group messages where people told me to go to hell, that I was a white supremacist and a racist confederate. My senior advisor, a woman of color, was asked why she supported a Colonizer.

The other candidates' supporters tore down our posters and ripped my head off the pictures, a sinister warning of what was to come. My campaign was called the white supremacist campaign. False social media posts circulated that my fraternity had parties with confederate flags and chanted that the south would rise again. One message said, "White men are the absolute worst!" Soon after, the posts got even more terrifying — "Hitler got something right!" and "he should get dragged for it!" I began to fear for my safety. Why was this happening?

I felt hopeless. It was a level of fear I couldn't even process. Everything I had worked for was destroyed, and so was my reputation. I felt like I could never come back from this.

… the university did nothing when the other candidates' social media attacks rained down on me. Even the student deputy election commissioner, who was supposed to be impartial and enforce the rules, joined the opposition and participated in the vitriolic shaming and blaming. She violated the very rules she was supposed to enforce. …

What happened was wrong and unjust. And it's everyone's responsibility to make sure this never happens again to anyone…
Although he does not mention it in his piece, apparently the great sin he committed was that as a freshman he attended a "North/South" frat party, the Vanderbilt Hustler student newspaper reports.
In a since-deleted video he posted on Instagram prior to writing his Medium column, Gould apologized for attending the event and subsequently denying he attended to his running mate and the campus community.
He said in the video that act was akin to covering up racism and he should have taken accountability for attending the party, adding he is "not fit" to serve as president and will continue to educate himself.
In the end, Gould writes in his column, he will continue to serve on the Economic Inclusivity Committee and do what he can to help the lives of others.
Read Gould's piece on Medium here.
Editor's note: This piece has been updated to include information on Gould's apology over the fraternity event controversy. 
Like The College Fix on Facebook / Follow us on Twitter