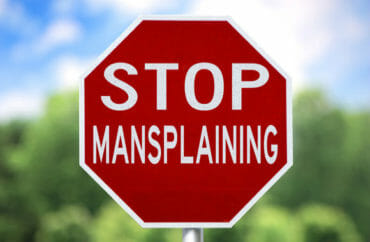 We're not stopping at 'anti-oppression' training for the newsroom
You want a front-row seat for unapologetic mansplaining? Look at what these two male student editors did to a female whose opinion piece they published: They personally trashed her after the fact.
Trent University's student newspaper Arthur, a nonprofit funded by a student levy, published a traditional debate column in January featuring two opposing views. The subject was the Canadian university's "gender-neutral washroom" policy.
Student Heather Brown wrote the column against the policy, citing her discomfort with "sharing intimate space with members of the biologically opposite sex," according to columnist Barbara Kay of the National Post.
I have to cite Kay's recounting of this controversy because the Arthur removed the debate column so quickly that it doesn't appear to have been archived anywhere that I can find.
What does remain online is two mea culpas from the editors of the biweekly Arthur, Dan Morrison and Josh Skinner.
The first, published two days after the Jan. 17 issue with Brown's piece, is brief and inward-looking, though it knocks Brown's column without naming her:
The safety and humanity of any group of people is not up for debate, especially a community as historically oppressed as the trans and gender non-conforming community. A safe space for trans and gender non-conforming people to go the bathroom should not have been up for debate. …

We failed to hold the article in question to sufficiently high editorial standards. It rested too heavily on speculation in the name of women and it failed to corroborate its claims or draw on any evidence.
Morrison and Skinner said they would "immediately" arrange for the Arthur newsroom to take "anti-oppression workshops" in an attempt to ensure "that a mistake like this never happens again."
The mistake being publishing an actual debate on an actual matter of cultural and public policy, for the education of its readers.
MORE: Transgender activists attack free speech rally for Jordan Peterson

One-sided debate continued to rage around the subject, and the paper published another column that dismisses Brown's discomfort with disrobing and urinating in the presence of men because all women who identify as women have "privilege," and cisgender people should be "grateful … for the access you have to campus spaces that are so gendered and exclusive."
Morrison and Skinner felt compelled to write a longer column, published Saturday, that publicly crucifies Brown for … claiming that most women identify as women. I'm not joking.
The mansplainers nonsensically claim that the controversy "has very little to do with Brown, but everything to do with us," and then proceed to repeatedly trash her even while saying they don't think she's "transphobic."
It says the pro-gender-neutral column "corroborated its claims with evidence and drew upon the experience of existing gender-neutral bathrooms on campus" – there's no way to verify this now, by the Arthur's own decision – while Brown's column "lacked any serious attempt to corroborate its claims."
The Masters of Mansplaining held up Brown for ridicule by saying there was "no evidence to support Brown's claim that there are more cis women than trans or nonbinary on campus. This assumes that you can necessarily tell a cis woman or non-binary woman by looking at them."
MORE: College disinvites Jordan Peterson over 'safe space' joke
They faulted Brown for not collecting "testimony of other women" before claiming she's not the only woman who'd rather not pee with men in the same room:
The effect of publishing this article was to cause harm to the trans community. Furthermore, this stance was rejected overwhelmingly in feedback that we received from women directly and indirectly.
Brown did not intend transphobia – indeed, even the campus Trent Queer Collective said she had been attending its meetings in good faith – but "the intentions are not as important as the effect," Morrison and Skinner wrote:
The ambiguous language used resulted in transphobia being spread on campus, causing harm to the trans community. It embodied the kind of dog-whistle transphobia that has marred much of the discourse on gender-neutral bathrooms.
Needless to say, this is fascist BS. If you can't host a debate on a timely public policy issue in a campus newspaper, you might as well shut down the newspaper, or at least stop taking student money to publish it. You aren't trying to educate your audience, but indoctrinate them.
Mansplainapalooza suggests that Brown argued "alleged women would be vulnerable to sexual assault by men" if biological men were a common sight in women's restrooms, and the editors' failure to require her to "sufficiently" clarify her point "was extremely reckless of us." Again, since they took down her opinion piece weeks ago, readers have no way of evaluating it for themselves.
Because Brown has not responded to their request to "clarify this point," they decided to trash her publicly. Morrison and Skinner conclude: "Let the record show that Heather Brown is no more a martyr than any other campus conservative that preceded her."
A statement from the co-editors: https://t.co/ufRYBcNaRA

— Arthur Newspaper (@TrentArthur) March 6, 2018
Kay, the National Post columnist, compared Brown's public lynching to a scene in the Amazon Prime series Transparent, about an elderly man who starts identifying and living as a woman.
"Maura" and his daughter are in line for the women's restroom soon after his gender switch, when a biological woman loudly notices "Maura" is a man. His daughter starts arguing with the woman  and calls her a "f***ing c***" as an embarrassed Maura leaves the room.
The Trent Queer Collective's agreement to let Brown address the group was also rescinded after an outcry, because they didn't want to give a "public platform to this conversation." Instead, two representatives will privately lecture Brown about why she's a bigot.
The only group that would actually let Brown talk about her opinion piece was her own, the Trent Conservatives, according to Kay:
According to Brown, a moderate number of people showed up, and a productive conversation was held. Only two people disagreed with her position in a "very civil" manner, attendees "asked good questions" and there were "no hard feelings" from anyone. Isn't that the way contested political terrain should be handled everywhere on a university campus?
Of course that's the way it should be, in a public discussion or a newspaper debate section, Kay says:
In a previous era, such evenhandedness would have been considered normal journalistic practice. But on campus today, it is the metaphorical daughter screaming "f***ing c***" who has the final word on what is and what is not admissible for discussion.
Read the two editors' columns from the Arthur and Kay's column.
MORE: Radical feminist says transgender threat is 'forbidden discourse'
IMAGE: Bird-Lee/Shutterstock
Like The College Fix on Facebook / Follow us on Twitter