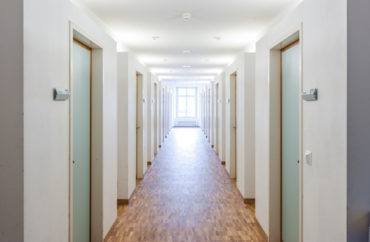 Study-heavy floor also available
A public university in Las Vegas provides eight specialized housing halls, specifically tailoring them to fit the needs of students with numerous backgrounds or lifestyles, including nutritious students, study-intensive students and LGBT students. One floor is intended for black students.
The University of Nevada, Las Vegas's various specialized residence centers have been around for a number of years. The housing options are reportedly popular among students.
Howell Town
Howell Town is the residence floor intended for black students. The hall is named for John Howell, who was the first African-American in Clark County to own land.
According to the university's news center, Howell Town developed as the university hosted two retreats for black students in Nov. 2017 and March 2018.
"It became clear that there was both a desire and a need for dedicated spaces to explore identity in meaningful ways," Orlando White, the campus's assistant director of residential life, told the university news center.
"Howell Town offers strength through celebrating and exploring diversity rather than just having diversity or the presence of difference. These resources and the connection between them are critical components to student success."
The university said that in its first semester, "Howell Town attracted 30 residents, mostly upper class and transfer students."
Stonewall Suites
Stonewall Suites is the university residence hall that houses LGBT students.
"Stonewall gets its name from the 1969 Stonewall riots following a police raid on the Stonewall Inn in Greenwich Village, one of the few bars in New York that welcomed the gay community. The riots were a flashpoint in the fight for LGBTQ rights," according to the university.
Unlike other dorms, Stonewall permits both men and women to live together on the floor. In a traditional residence hall at the school, students would need to sign a formal agreement for "gender-inclusive" living.
The hall developed after resident assistant Sawyer Spackman heard other universities had LGBT floors and pitched the idea to the residential life coordinator. The proposal was met with enthusiasm from the university and approved in six weeks.
The 35 housing slots for Stonewall filled up quickly, with students needing to be added to a waiting list.
"It means the university cares about [LGBTQ students]. We claim rightfully we're the second-most diverse school in the nation, but what are we doing about that? We're not just daring, diverse, and different because we want to be," Andrew Lignelli, the residential life coordinator.
"We're reaching out to students who are underrepresented, giving them opportunities to feel included in the on-campus environment."
The College Fix reached out to the university's residential housing department and to Tom Sedgwick, assistant director of residential life, to ask about plans for future specialized housing, special residential activities for students, and if students can live on specialized floors without identifying with the theme of those floors. The Fix also asked if the school offers male-only options, given that it offers a female-only floor to students.
Both the residential housing department and Sedgwick forwarded The Fix's inquiries to media relations. That department did not respond to The Fix's questions.
All-Women
The school also provides female-only housing "available to any student who chooses to live in a women-only living environment."
The female-only housing is located in the Tonopah housing community, whose amenities include premium cable television, wireless internet and a game area.
It is unclear if those living quarters permit "transgender women" to live on the floor. The school says with regard to transgender students that it will "make room assignments based on how the student identifies his/her gender at the time of application."
Healthy Living
Though the school was unwilling to discuss its specialized housing, the university's website offers some information about the additional housing options.
The Healthy Living floor "is a community of students from freshmen to seniors who share a common interest in nutrition and overall health and wellness."
Healthy Living Hall partners with Campus Recreational Services to provide students on this floor with different wellness activities to support a healthy lifestyle. Social groups, events and leadership programs are also hosted for students in this hall.
Study Intensive
Study Intensive Hall is for students who are truly at college to learn.
"Although study-intensive floors remain lively and fun places to live, residents who select these floors generally place a greater focus on their academics," according to the university website.
Students living in this hall have more quiet hours than the average dorm. These facilities also observe a 24-hour "courtesy hour" rule; during "courtesy hours," dorm residents are "expected to maintain a level of quiet such that they are not disrupting others," according to university policy."
MORE: Professor says segregated dorms must not be tolerated
MORE: Universities, students embrace segregated spaces on campus
IMAGE: Vasin Lee / Shutterstock
Like The College Fix on Facebook / Follow us on Twitter