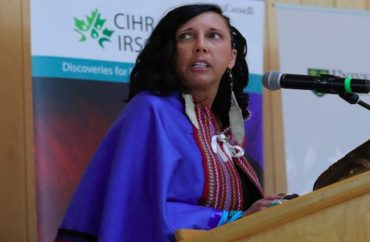 Remember the University of Saskatchewan professor whose alleged indigenous background was being questioned?
After initially supporting Carrie Bourassa, both the university and the Canadian Institutes of Health Research have now suspended her after it was revealed she is actually "entirely European."
Bourassa had claimed she belonged to the Métis, Anishnaabe and Tlingit communities, but after an investigation by the CBC, the professor could not back up any of that. She also said she had hired a genealogist two years ago to examine her background, and that work "is ongoing."
"Today I spoke with Dr Carrie Bourassa … and we agreed that she will step away from all of her duties as Scientific Director of the Institute," CIHR President Michael Strong said last week, according to the Independent. "As such, Dr Bourassa will be on an indefinite leave without pay effective immediately."
The institute cited Bourassa's past statements to the media and the harm "this information may be causing Indigenous individuals and communities."
The New York Post reports that University of Saskatchewan Indigenous Studies Professor Winona Wheeler had said she "smelled a rat" after seeing Bourassa's TED Talk at the school: "When I saw that TEDx, to be quite honest, I was repulsed by how hard she was working to pass herself off as indigenous."
The Daily Mail notes the university has hired an indigenous lawyer, Jean Teillet, to further investigate "whether or not [Bourassa] misrepresents herself."
Caroline Tait said she, Wheeler and other colleagues grew more doubtful when they learned that Bourassa's sister had stopped claiming Métis ancestry after looking further into her genealogy.

Her sister, Jody Burnett said Bourassa's 'description of our family is inaccurate, not rooted in fact and moreover is irrelevant to the issue of whether or not [she] is Métis.'

Tait, a Métis professor and medical anthropologist at the University of Saskatchewan who has worked with Bourassa for over 10 years, said she began to question her colleague's ancestral claims as Bourassa began noting ties to the Anishinaabe and Tlingit communities and dressing in more stereotypically Indigenous styles. …

The professors' investigations led to finding out that their fellow professor [Bourassa] was actually from Russia, Poland, and Czechoslovakia and her ancestors were immigrant farmers.
It's strange, given how the concept of "white privilege" is treated almost like a religion in higher ed, that academics like Bourassa, Rachel Dolezal and Elizabeth Warren would feel the need to adopt a different — fake — identity.
MORE: MeTooSTEM founder created fake Native American colleague to defend herself against criticism
IMAGE: Twitter screencap
Like The College Fix on Facebook / Follow us on Twitter