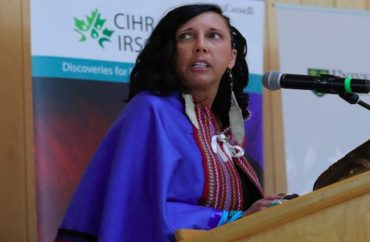 Canada's University of Saskatchewan is standing with a professor who has been accused of faking her indigenous/Native American heritage.
According to CBC News, Carrie Bourassa of the Department of Community Health and Epidemiology actually is "entirely [of] European descent," based on research by several academics and a CBC review of genealogical records.
In response to a CBC inquiry, Bourassa did not provide evidence of Indigenous heritage, instead offering outrage at "anyone disputing [her] links to the Métis community."
She contradicted her previous claims, the CBC said, by noting she "was adopted into the community by a Métis friend of her grandfather" and that "elders who support her do not rely on 'blood quantums' to assess Indigenous identity."
Bourassa told another news outlet last weekend she doesn't have any proof to back her claims of Native heritage but "insists she's not lying." She said she hired a genealogist two years to look into her background, "and that work is ongoing."
"I maybe will be able to find a Tlingit ancestor somewhere. Maybe I will, maybe I won't," Bourassa said.
The Canadian Institutes of Health Research (for whom Bourassa serves as scientific director of the Indigenous health), also stands behind the professor.
In a statement, the CIHR said "On the question of Dr. Bourassa's identity, we recognize that Indigenous identity is complex, multifaceted and deeply personal and we support Indigenous self-identification."
ALERT: Check out our new Campus Cancel Culture Database!
In its statement emailed to Indigenous staff, provided to CBC, the U of S, located in Saskatoon, said it recognizes that "self-identification is no longer sufficient for Indigenous-specific appointments." However, the university said Bourassa wasn't hired based on her claims to Indigeneity.

"Professor Bourassa was not hired by the university because of her Indigenous status, and Indigenous ancestry was not a requirement of the role," the university's provost and vice-president, academic, Airini, said in a statement released to the public. "The quality of Professor Bourassa's scholarly work speaks for itself and has greatly benefited the health of communities across Canada."

This baffles many Indigenous academics, such as Raven Sinclair from the University of Regina, who says the CIHR and the U of S have left Indigenous academics in an "untenable position."

"It's inconceivable that we have a non-Indigenous person representing us at that level of academe. And representing us based on lies, based on untruths," she said.
Professor Darryl Leroux of Saint Mary's University said "it's stunning that Canadian institutions continue to think [Indigenous] self-identification is sufficient."
This self-identification certainly helped one of the U.S.'s most prominent politicians, Elizabeth Warren, who claimed minority status based on her great, great, great grandmother allegedly being Cherokee.
And who can forget Rachel Dolezal, the white academic who claimed she was black?
Ironically, too, last week prominent "anti-racism" guru Ibram Kendi tweeted out — and then quickly deleted — a story from The Hill about how over one-third of white students lie about their race on college applications. The piece noted these students took such action to improve their chances of acceptance and obtaining student aid.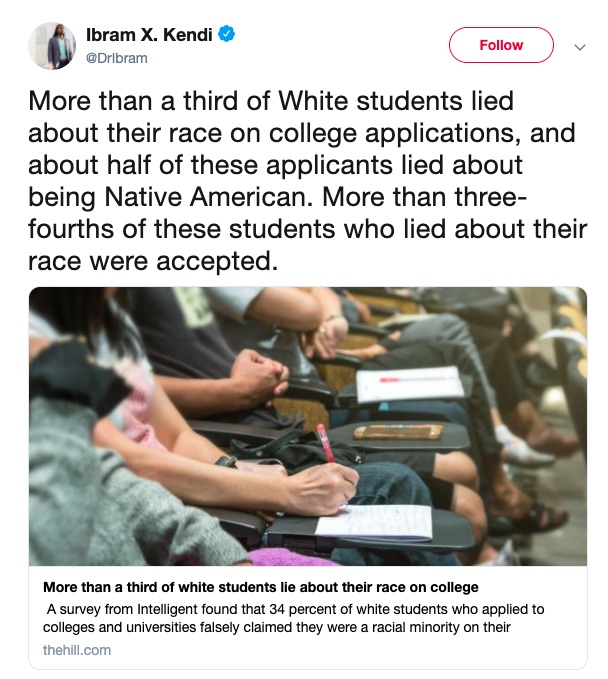 Kendi surely realized the tweet undermined virtually his entire schtick: "[I]f white privilege is so prevalent and persuasive, why would white kids feel the need to disguise their whiteness"?
MORE: 'Self-Indigenization' and the (further) contradictions of identity politics
IMAGES: Twitter screencaps
Like The College Fix on Facebook / Follow us on Twitter