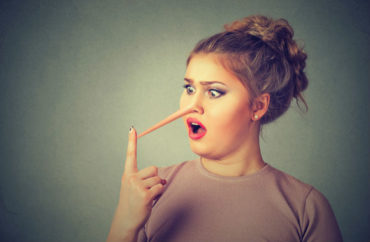 The ability to bullshit other people is a sign of intelligence, according to a new report issued by researchers from various Canadian universities.
Bullshitting, which the researchers define as "communication characterised by an intent to be convincing or impressive without concern for truth," may serve "to assist individuals in navigating social systems, both as an energetically efficient strategy for impressing others and as an honest signal of one's intelligence," the researchers say.
"We find that those more skilled in producing satisfying and seemingly accurate bullshit score higher on measures of cognitive ability and are perceived by others as more intelligent," the study concluded.
One of the study's authors, Mane Kara-Yakoubian or Ryerson University, told PsyPost she was interested in the study because of the relatability to her own life.
"The more I bullshitted an essay, the better my grade was," she said. "Naturally, the research grew on me; I could see its relevance in my life. So when the opportunity to conduct more research in this area presented itself, I was quite eager to pursue it alongside my graduate mentors."
The report was the result of two studies comprising 1,017 participants. In one study, the participants were asked if they could identify ten different concepts, four of which were fake (including "subjunctive scaling," "declarative fraction," "genetic autonomy," "neural acceptance.")
The participants who claimed to have knowledge of the made-up concepts (the "Bullshit Producers") were then asked to explain them, and their answers were rated for their believability and plausibility by other study participants. These "Bullshit Raters" were then asked to rate the intelligence of the Bullshit Producers, and the study found the "perceived intelligence of Bullshit Producers was positively correlated with assessments of their bullshit ability."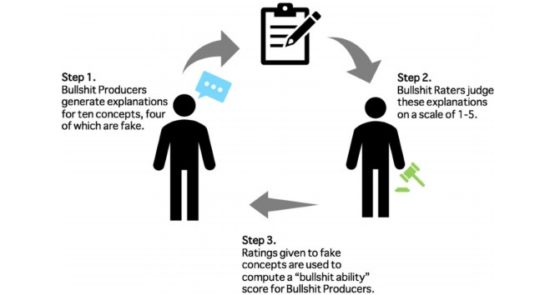 Further, researchers found that the Bullshit Producers tended to score higher on a standard vocabulary test, with many of them also scoring well on abstract reasoning and non-verbal fluid intelligence tests.
Perhaps one unexpected finding of the study is that the people who are most adept at bullshitting are hesitant to use their powers.
"Those able to produce convincing bullshit were no more likely to report knowledge of fake concepts," the report finds. "This is surprising as one might expect that a person naturally skilled in producing bullshit would bullshit more often."
The researchers cite previous studies that detail the social benefits of bullshitting.
"A person who is capable of producing good bullshit may be perceived as especially charming, convincing, or competent as long as their deception is left undiscovered. Relatedly, styles of bullshitting that allow one to avoid awkward or uncomfortable social situations may go far in fostering social harmony. This type of bullshitting (i.e., evasive bullshitting) could be employed to avoid lying, while replacing the direct response with a less relevant truth."
The researchers hail from the University of Waterloo, Ryerson University, and the University of Guelph, all of which are in the Canadian province of Ontario.
MORE: Canadian professor suspended for 'unkind' blog posts, denying systemic racism
IMAGE: pathdoc / Shutterstock.com
Like The College Fix on Facebook / Follow us on Twitter