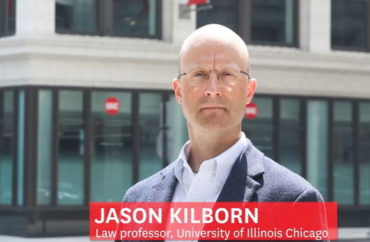 UPDATED
A law professor who was suspended from teaching, forced to undergo sensitivity training, and accused of racial bias has filed a lawsuit to defend and restore his reputation after his employers publicly accused him of calling students of color "cockroaches."
University of Illinois Chicago law Professor Jason Kilborn's recently filed lawsuit accuses administrators of violating his Constitutional rights, as well as defamation, false light and intentional infliction of emotional distress. It seeks damages in excess of $100,000.
Kilborn has been described by students as "top notch." As his lawsuit against the University of Illinois Chicago moves forward, Kilborn maintains campus leaders engaged in performative retribution against him.
"I have loved my students with everything that I could give them for 20 years now — and this is how UIC rewards me," Kilborn said publicly in mid-February regarding his lawsuit. "It's just an absolute tragedy."
Kilborn told WGN Radio he is still employed by the university but is not teaching any classes. "They have kept my full pay and benefits in place, I believe in part because they know full well what they are doing is wrong," he said.
UIC declined all requests for comment from The College Fix.
In December 2020, Kilborn's Civil Procedure II question about employment discrimination referred to a hypothetical plaintiff whose managers "expressed their anger" at her by "calling her a 'n___' and 'b___.'"
Kilborn censored the slurs on the exam, but complaints mounted regardless, in particular from the Black Law Students Association.
BLSA would like to call to attention the inexcusable usage of "N___" and "B____" on a Civil Procedure II Exam. This slur shocked students and created a huge distraction from taking the exam. pic.twitter.com/t720HVllZb

— UIC JMLS Black Law Student Association (@uic_jmls_blsa) December 30, 2020
The university then suspended the professor after he made a joke about his dean fearing that he would become "homicidal" in response to student criticism of the exam question. He made the joke in jest during the middle of a four-hour conversation with a member of the Black Law Students Association, the lawsuit states.
"In retrospect, it is fairly clear that the purported threat was a mere pretext, offering UIC officials cover for their politically motivated actions," the suit alleges, adding campus officials proceeded with more investigations into the professor based on vague student "allegations of race based discrimination and harassment."
In May 2021, UIC's Office for Access and Equity produced a 4-page "findings letter" that concluded allegations of racial discrimination had not been substantiated against Kilborn but "nonetheless violated the harassment aspect of UIC policy" because his final exam question and his "responses to criticism of the final exam question" had "interfered with Black students' participation in the University's academic program and therefore constituted harassing conduct."
The lawsuit calls this finding false, that he never interfered with Black students' education. But the suit takes on officials' "most incendiary" allegation against Kilborn spelled out in the 4-page "findings letter," that being that he had "referred to racial minorities as 'cockroaches.'"
The lawsuit argues the "notion that Kilborn had ever referred to racial minorities as 'cockroaches' is demonstrably false, as is plainly revealed by the transcript of the recording of the relevant segment of the class discussion." The suit transcribes the relevant class portion:
"The fact that other plaintiffs see that one other plaintiff lost isn't a disincentive. If it were, frivolous litigation would have ended long ago, because lots of plaintiffs have been pushed to the wall and lost. You don't hear about those stories in the media. You hear about idiot people winning $1 million verdict against Subway for having 11.5"-long sandwiches. That's what makes the press, right, that Subway lost. Not that they win against this ridiculously frivolous case. That wasn't in the media, only in the legal media, maybe, if you were paying attention. And that's the problem. If they win, no one hears about this. They only hear about it if they lose, and God forbid that, then all the cockroaches come out of the walls, they're thinking, right?"
The lawsuit then notes the "false and incendiary claim that [Kilborn] had described minorities as 'cockroaches' sparked a wave of outrage" and a parade of newspaper reports that led to protests against the law professor.
One of the protests in November 2021 even featured civil rights activist Rev. Jesse Jackson, who reportedly said "students deserve an environment that's not hostile. We must act; we will act."
Kilborn, in his interview with WGN Radio, said that he is still employed with full pay because administrators are trying to "put down the public firestorm that was created by their very own misleading reporting when students discovered this and started screaming to the world that I had called my students cockroaches and racial slurs."
"This is a blatant lie and it's a total misunderstanding of what was going on in the class recording. … This appears to be indeed a witch hunt by my Office for Access and Equity who totally ran roughshod over the real facts here."
In the fall of 2021, Kilborn was required to undergo a lengthy sensitivity training, which he complied with, the lawsuit alleges.
But in December 2021, he was "summarily suspended from teaching for the entire Spring 2022 semester—again with no hearing or prior notice," the lawsuit alleges. "His Bankruptcy class was cancelled, and his Secured Transactions class was reassigned to another professor with no experience teaching the course."
"Ironically," the lawsuit further alleges, "the very first set of supplemental readings selected and assigned [as part of the university's sensitivity training] contains the exact same 'usage' of a racial slur that sparked this entire dispute."
In a paragraph on group identity and outgroup bias, the phrase "n_____ lover" was used in a hypothetical description. To Kilborn, this irony betrays the fruitlessness of his DEI debacle.
"When confronted with this blatant hypocrisy and a demand for an explanation," Kilborn told The College Fix, "UIC did not even attempt to offer any justification."
While Kilborn has tenure, he described his treatment as akin to suspension: "I'm sure my students — the most important victims in this whole bizarre ordeal — would call it a suspension."
Kilborn said that "making me into a villain is not a fair or effective pathway to healing." He said he still hopes for reconciliation.
"Resist extremism, recognize our shared humanity, and find a way to move forward together as friends," he told The College Fix. "That's what higher education is supposed to be about."
Kilborn is represented by Vitale, Vickrey, Niro, Solon & Gasey LLP. His lawsuit was filed in late January.
Editor's note: This article has been amended to correct the name of Kilborn's attorneys. 
MORE: Law school claims exam question that offended students is not protected by academic freedom
IMAGE: FIRE YouTube screenshot
Like The College Fix on Facebook / Follow us on Twitter