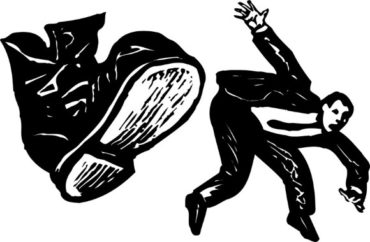 Awaiting 'fitness of duty' examination for 'homicidal' joke
The University of Illinois-Chicago barred a law professor from campus, teaching and "all faculty communications" for a comment he made in jest to a student offended by an exam question last semester, he claims.
In response to complaints about that question, the John Marshall Law School told faculty to "avoid language that could cause hurt and distress to students," according to the legal blog Above the Law.
Prof. Jason Kilborn's Civil Procedure II exam used heavily edited references to racial and gender slurs in a hypothetical situation about employment discrimination. It said the employee quit "after she attended a meeting in which other managers expressed their anger at Plaintiff, calling her a 'n___' and 'b___' [sic]."
Before it marked its Twitter account private, the Black Law Students Association said Kilborn's use of the euphemisms "shocked students and created a huge distraction from taking the exam."
It created a petition directed to Dean Darby Dickerson and Chancellor Michael Amiridis demanding Kilborn's removal as chair of the academic affairs committee "and from all other committee appointments he holds."
The group also called for mandatory cultural sensitivity training and for mandatory courses to be offered by professors "without a history of bias." The petition has just over 400 signatures as of Monday night.
Kilborn said he was "actively misled into believing my suspension was related to that language" in the exam question, according to Northwestern University Law Prof. Andrew Koppelman, who wrote an essay about the dispute for The Chronicle of Higher Education.
Rather, a member of the BLSA reported Kilborn to the Behavioral Threat Assessment Team after the two had a lengthy Zoom conversation about the petition.
Asked why Dean Dickerson had not given the BLSA "attack letter" to Kilborn, the professor speculated to the student: "I suspect she's afraid if I saw the horrible things said about me in that letter I would become homicidal." That lone remark was apparently used to put him on indefinite leave, Kilborn told Koppelman.
MORE: Pitt Law prof resigns under murky circumstances after quoting n-word
"I think this is an unfortunate reflection of the state of public debate in our country today," Kilborn (left), who remains under Office for Access and Equity investigation for the exam question, told The College Fix.
"Compromise and moderation have been left completely behind in almost all dialogues on any issue today, and this latest episode illustrates the no-holds-barred and take-no-prisoners approach to modern conflict," he wrote in an email. Kilborn is currently awaiting "a fitness of duty" mental examination by university medical professionals and a meeting with a social worker.
The law school's directive to faculty troubled First Amendment expert Eugene Volokh at UCLA Law School, whose administration has criticized him for using the unedited n-word when quoting court cases.
"How can academic freedom and institutional self-government work if these decisions are made and publicly announced by deans, apparently without any real discussion with the faculty as a whole?" the law professor wrote, reprinting the full exam question.
Hans Bader, a former Department of Education lawyer, told The Fix in an email that "fair notice due process principles seem to have been violated" in the investigation over the exam question, "since the professor's usage of the terms was valid and non-racist."
The John Marshall Law School didn't respond to calls and emails last week about how faculty were supposed to practically follow its directive to not "cause hurt and distress to students."
The American Association of Law Schools, where Dean Dickerson serves as president, also didn't answer phone calls and emails from The Fix asking if the directive was in line with AALS guidance and practice.
'At some point the adults in the room have to call timeout'
Kilborn told Above the Law he had used that exam question as worded, with sanitized versions of "n****r" and "b***h," for a decade without causing offense.
But one of his students last semester said she was "incredibly upset" and experienced "heart palpitations" as a result of the question, according to Koppelman's essay.
The BLSA activism against Kilborn led Dean Dickerson to apologize to students "who expressed hurt and distress over the exam question," the law school told Above the Law. It acknowledged "that the racial and gender references on the examination were deeply offensive."
When considering their language, faculty with "tenure and academic freedom should always remember their position of power in our system of legal education," it said.
While Kilborn told Above the Law that he was "fully prepared to accept responsibility for using a context and first-letter abbreviated reference that caused anyone to feel distressed," and had already "expressed regret for it," the professor emphasized to The Fix that the class material was routine.
MORE: Duquesne fires prof for using n-word in pedagogical context
"I did not and do not want to make anyone especially uncomfortable, especially in the exam context, but at some point the adults in the room have to call timeout and explain that part of the higher education process, especially in law school, is confronting uncomfortable issues," he wrote:
It would have been so easy to foster understanding, compassion, and growth, but they took the easy way out (as administrators so frequently do today) and succumbed to the lust for instant gratification of righteous indignation.

There were so many options for a healthy, healing reaction to the students' pain; none of those options were taken, and probably none was even considered.
If the mental examination and social worker conclude Kilborn is "not an imminent threat," Dean Dickerson still "apparently has discretion" to ignore any recommendation to reinstate him, the professor said. He's not what to expect, "judging by her handling of the situation thus far."
Reminiscent of 'indiscriminate blacklisting during the McCarthy era'
The law school's course of action is sending the wrong message to faculty, he continued.
"The message, which is being actively discussed on blogs and listservs and in private conversation right now, is that we professors are now almost entirely disabled from challenging our students in the way that higher education needs to challenge future leaders," Kilborn told The Fix.
The conversations they must have on "racial justice and healing are now so fraught that no one can be sure that such a conversation will not result in an explosive call for resignations and retribution," he said.
Koppelman backed up Kilborn's appraisal of the situation in his essay. The exam question was "an ordinary question of law, entirely appropriate for an exam," and the administration should have supported Kilborn.
"In the real world, racist slurs are not bowdlerized as they were on Kilborn's exam. He did nothing inappropriate," the professor said. If this is "punishable behavior, how is it ever permissible for a professor to take note of the fact that racial slurs exist? How is one to teach a course in antidiscrimination law?"
MORE: Feds warn UCLA about disciplining prof who read N-word from MLK letter
Dean Dickerson (right) issued the sweeping sanctions on Kilborn in a "2-minute Zoom meeting" hours before his first meeting with one class, with no explanation, he told Koppelman. Kilborn only put the pieces together later, that his administrative leave was the result of the "homicidal" quip.
"The university cannot possibly suspend and bar from campus everyone who uses the occasional violent figure of speech," Koppelman wrote. "Even if one did take it literally, his statement was a speculation about the dean's state of mind, not a statement about his own":
It is hard to believe that Dean Dickerson would have reacted the same way if Kilborn's exam had not already provoked controversy. The complaints about the exam were apparently not sufficient to trigger the sanctions that might mollify the complaining students. The purported threat, however, offered that opportunity.
Koppelman compared the law school's actions to the "indiscriminate blacklisting during the McCarthy era," saying it's creating "a climate of terror" for faculty who are otherwise willing to "give more attention to issues of racial inequality," as their administrators have requested.
Will all faculty face a 'thorough review' when students complain?
In his analysis, UCLA's Volokh said the John Marshall Law School's directive to faculty made it harder "to integrate discussions of race, racism, white supremacy, slavery, and the like into more classes," as is the trend.
Dean Dickerson isn't limiting restrictions on faculty language to exams, he noted, raising the question whether faculty will face a "thorough review," as Kilborn is under, whenever a student complains that the legal hypotheticals are "offensive and culturally insensitive" or "could cause hurt."
If the law school, a public institution, is actually punishing Kilborn for his exam question, it will run headlong into case law from across the federal appeals courts, Bader told The Fix.
The 3rd U.S. Circuit Court of Appeals didn't need to consider the First Amendment in a 1990 ruling involving Pittsburgh public schools, the former Department of Education lawyer said: "If 'people of common intelligence' wouldn't have known that such references were forbidden, then punishing an instructor for them 'violates due process.'"
A 6th Circuit ruling against a community college, known as Hardy, confirmed that "the N word is not a forbidden word in the eyes of the First Amendment," he continued. The only question is whether "in-class speech by professors" is protected.
The Fix asked the law school to clarify how faculty can teach subject matter that is common in law school curricula, such as racial, sexual and religious harassment, without causing some students "hurt and distress" in violation of the directive. White students in particular are likely to feel uncomfortable in discussions of "whiteness," for example.
It also asked the administration to explain why the threat of investigation – even for faculty who try to comply and quickly apologize for causing offense – won't chill academic freedom, and why it didn't consult faculty before issuing the directive.
MORE: Prof who read n-word from textbook beats investigation, still in trouble
IMAGES: Shutterstock, University of Illinois-Chicago
Like The College Fix on Facebook / Follow us on Twitter