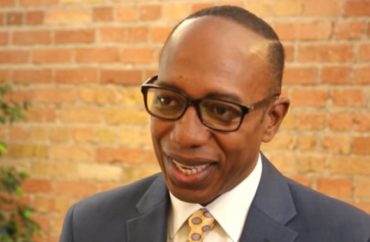 Focus on smart policies, not just more college degrees, education leader says
The president of a national career readiness company said that preparing students early, before high school, is a key part of combating China in an economic war.
Shaun McAlmont (right), the president of Career Learning Solutions at Stride, Inc. described the importance of career readiness in a recent essay for RealClearEducation and in an interview with The College Fix.
"China has the world's second largest economy, a tech industry that is expanding faster than any other," McAlmont told The Fix via a spokesperson. He said China's massive population "gives it a competitive advantage in data, human capital, and innovation potential across nearly any industry."
The former president of Neumont College and a Stanford University student affairs director urged a "smarter" and "fundamental shift" in the United States' education strategy.
"[W]e need a strategy that doesn't depend on getting or being bigger," McAlmont said. "We have to work smarter, starting with a fundamental shift in our education system that prioritizes career-oriented learning."
The current system that pushes for college degrees is not realistic or effective.
He said:
Our current educational model makes it too expensive for every American to get a college or advanced degree, and the reality is that many in-demand jobs don't even require one — they just require the necessary skills. Right now, the Bureau of Labor Statistics is predicting that there will be more than half a million new tech jobs by 2029, but if we don't have the workforce to fill those roles, we are bound to fall behind.
He discussed two examples of innovation in the field of career training when asked by The Fix for effective programs.
"FastForward is a Virginia-based program that provides residents with short-term training to qualify for jobs in high-demand industries," McAlmont said. "The programs take, on average, 6 to 12 weeks to complete, and graduates are twice as likely to be hired as applicants without credentials."
FastForward provides credentials in fields including skilled trades, information technology and healthcare. He also recommended a federal program as a good model.
MORE: College students value job-skills over 'elite education,' survey finds
The federal Workforce Innovation and Opportunity Act funds programs that assist "Americans seeking employment gain access to the training and skills they need to find jobs," McAlmont said. It also supports companies "looking to meet workforce demands to remain competitive in a global economy."
The programs are similar to what his company has implemented in schools.
"Career readiness programs – like the Stride Career Prep programs at the schools we support – can start in high school, or sometimes even earlier, to give students a glimpse at possible careers or industries to enter and expose them to experts who are doing those jobs," he explained.
"Students have the opportunity to gain valuable work experience through job shadowing and apprenticeships while learning the skills necessary to qualify for the jobs they're interested in," McAlmont said. "Students prepare for and take exams to attain industry-recognized certifications for emerging in-demand jobs in fields such as information technology, cyber security and digital design."
His essay in RealClearEducation provided several success stories.
"One such student, Samuel Shin, works five hours a day as a freelance animator while getting his high school education online," the essay said. Shin has plans to next obtain an animation studio internship.
Another student, Devon Casper "has been taking classes in programming and IT" and "plans to become a mechanic or a computer repair technician after getting his diploma."
MORE: New Tesla factory will create hundreds of jobs that don't require a college degree
IMAGE: Shaun McAlmont/Neumont College
Like The College Fix on Facebook / Follow us on Twitter