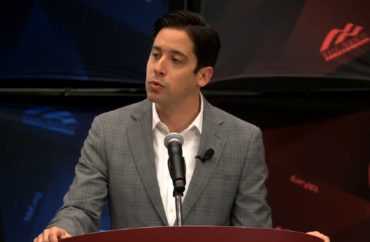 An administrator accused Knowles of making 'statements that are derogatory to the transgender and autistic community'
A Catholic university in Minnesota has denied a request from the University of St. Thomas for funds and approval to host Daily Wire commentator Michael Knowles.
The University of St. Thomas denied a request from the campus College Republicans to host Knowles (pictured), who is Catholic, for a talk about transgenderism.
"After reviewing the online content available for Mr. Knowles, I concluded that the event does not meet the criteria for an approved club event," an unidentified administrator wrote to the College Republicans. Young America's Foundation helped the CRs plan the event and posted a copy of the letter.
"Statements he has made do not align with our St. Thomas Conviction Statements on dignity and diversity," the letter stated. The administrator cited Knowles' "derogatory" comments on "the transgender and autistic community."
The letter did not cite any examples, although Knowles is a frequent critic of gender ideology and holds to the teachings of the Catholic Church that oppose transgenderism and the idea someone can change their sex.
This past March, UST rejected our request to host an event with Catholic Conservative @michaeljknowles . We had been working with @yaf to put on this event but were told that Mr. Knowles's views on transgenderism "violate the University's Core Convictions". View our statement pic.twitter.com/7hOAfV98Li

— St. Thomas College Republicans (@TommieCRs) May 4, 2022
He previously referred to teenage climate change activist Greta Thunberg as a "mentally ill Swedish child" which led to a temporary prohibition on him appearing on Fox News. Thunberg has Asperger's syndrome, a form of autism.
"It is our hope that the University will reaffirm its commitment to free speech and its Catholic heritage," the St. Thomas College Republicans wrote on Wednesday. "If we wish to persevere our institutions of higher learning we must fight for them (peacefully). UST is worth fighting for."
"In the University's view, it is not simply a concern about what Mr. Knowles would say, rather, it is a concern that he holds Conservative-Catholic views in the first place," the CRs wrote in a news release. "These restrictions on what speakers we can bring to campus represent not just a threat to free speech but freedom of thought."
This is not the first time that a university administrator has taken issue with Knowles' comments.
Washburn University President Jerry Farley, prior to Knowles' talk at the Kansas school in April, stated the Daily Wire commentator could make students feel "unsafe."
"A Washburn student organization has invited a speaker to campus who has a history of inciting fear and distrust," Farley wrote. "While I am strongly in the support of first amendment rights, I am disappointed when those rights are used to make others feel unwelcome and even unsafe in our community."
MORE: Wisconsin university officials help students plot against Matt Walsh event
IMAGE: YAF/YouTube
Like The College Fix on Facebook / Follow us on Twitter