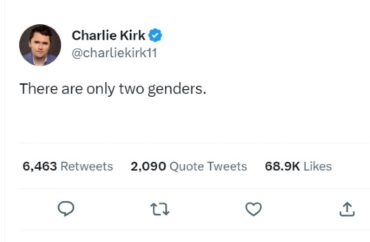 Dissident LGBT Catholic group praises university as 'model' for promoting agenda
A Catholic university recently denied the formation of a conservative group's chapter on campus due to statements from its national organization that there are only two sexes, male and female.
Saint Mary's University located in Notre Dame, Indiana denied an application to formally recognize a Turning Point USA chapter.
Two administrators told student Claire Bettag that the "style and content of Turning Point USA's messaging around LGBTQ+ issues do not align with the mission and values of Saint Mary's" in an email reviewed by The College Fix.
Dean of Students Gloria Jenkins and Vice President of Enrollment Lori Johnson referenced an archive of stories where TPUSA reported on LGBT issues, such as men competing in women's sports. Jenkins and Johnson also pointed to shirts sold by the national conservative group that it considered "anti-trans" because it states that "Real Men Aren't Women."
Other examples included comments made by CEO Charlie Kirk about men competing in women's sports and criticizing transgenderism.  Jenkins and Johnson also made mention of "other articles focusing on race and partisan politics that also point to the inconsistencies between stated claims and values of the organization and its founder and how they actually present themselves in reality."
The Catholic Church teaches that there are two sexes, male and female. It also explicitly forbids as sinful common procedures undertaken by gender dysphoric individuals such as sterilization. "Except when performed for strictly therapeutic medical reasons, directly intended amputations, mutilations, and sterilizations performed on innocent persons are against the moral law," the Catechism of the Catholic Church, which lists dogmas and doctrines of the faith, states.
"It completely astounds me to see that a 'Catholic' institution like Saint Mary's College has rejected my request to start a conservative chapter on campus due to 'biological differences' regarding transgenderism," Bettag told The Fix via email.
"Why should I have to fight to allow Catholicism to be taught at a Catholic university? If I wanted to attend a liberal school I would have considered an Ivy League university," the conservative student told The Fix.
Dean Jenkins did not respond to a request for comment sent in the past weeks from The Fix.
"The Bible is clear, God made them male and female and you'd think a Catholic institution would support those values," national TPUSA spokesman Andrew Kolvet told The Fix. He called the rejection of the group "startling."
"This university is rejecting clubs that want to carry the tenets of the Catholic faith on which the college was initially founded," Bettag stated in her comments to The Fix. "This just shows that the administration openly opposes Christ and His Church along with His teachings."
University approves LGBT group in contradiction to Catholic Church teaching
The Catholic university has also rejected a pro-abortion club, but does allow a pro-LGBT group and even has a center on campus that promotes homosexual and transgender activity. The Catholic Church also forbids as sinful homosexual sexual activity, and teaches that individuals with LGBT inclinations should live a life of chastity and abstinence.
In March 2021, Pope Francis signed onto an official Catholic Church statement that affirmed that homosexual couples in civil unions could not ask a priest to bless their relationships. The statement came from the Congregation for the Doctrine of the Faith, an office within the Vatican that issues clarification on moral questions. While God can bless individual persons who sin, "he does not and cannot bless sin," the statement affirmed.
That has not stopped St. Mary's from pushing forward with the LGBT agenda.
The director of its Center for Spirituality is Daniel Horan, a Catholic priest who endorses the LGBT agenda. Horan also compared a nun who supported Donald Trump to supporters of Adolf Hitler
He has compared the use of a gender dysphoric person's "preferred pronouns" and chosen name to Abraham receiving his new name directly from God.
"St. Mary's yet again, is paving the way, leading the way for inclusion and creating a space, a physical space for our LGBTQ students, community and faculty and staff. It's exciting," Horan said at the opening of an LGBT center in the fall 2021 semester.
The LGBTQ+ Center was hailed as a "model" for how Catholic universities should encourage LGBT students, according to a dissident group called New Ways Ministry.
The university also allows the "Sexuality And Gender Equity club" which "is a student-run gay-straight alliance. SAGE serves the Saint Mary's community as a safe space for LGBTQ+ students and allies."
MORE: LGBT students triggered by Catholic Hispanic trustees' memes
IMAGE: Charlie Kirk11/Twitter
Like The College Fix on Facebook / Follow us on Twitter