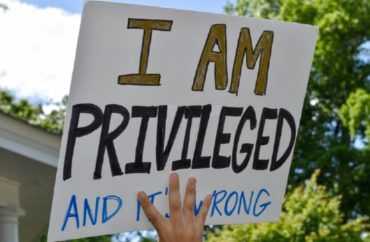 Helps white students 'recognize whiteness and white privilege'
A Catholic university in the suburbs of Chicago hosts a bi-weekly "White Accountability Group" for white students only.
"A total of 26 participants attended the first session of the semester, which was devoted to relationship building to establish the sense of trust to create a safe space for sharing personal experiences," the Dominican University campus paper reported.
Attendees of the first meeting in September filled out a form to "assess where they are in their own racial consciousness," the Dominican Star reported. An October meeting focused on "the characteristics of white supremacy culture and the false hierarchy it establishes on the basis of human value," the newspaper reported.
All white people have been taught to embrace white supremacy, one student currently involved with the program told the Star.
"As a white person, I recognize that being anti-racist means actively acknowledging the privileging I have and working to deconstruct the white supremacist thinking that we all have been taught," student coordinator Allie Wright told the newspaper. "It is essential that white people who claim to be anti-racist hold one another accountable."
The sessions are part of the university's Truth, Racial Healing, and Transformation Center.
"White Accountability Groups are for people who identify as white and/or have white skin privilege to explore how to recognize whiteness and white privilege, identify and interrupt internalized dominance, and collectively develop strategies for liberation and change," according to a university description.
Racial minority students at the Catholic university have their own groups to participate in, based on Native American spiritual practices.
"Affinity Circles are grounded in and inspired by sacred Indigenous practices. They are a safe space where listening, openness, and confidentiality are valued," the university website explains. These groups have "no hierarchy" but they do employ "circle keepers."
"Everyone enters freely as equal partners exploring our common humanity," the university explains.
The university takes diversity issues seriously. It recently fired a nun from the Franciscan religious order for tapping a DEI trainer on the head and making a comment critical of diversity training.
MORE: Fordham hosts 'safe space' for white theatre students
IMAGE: Logan_123/Shutterstock.com
Like The College Fix on Facebook / Follow us on Twitter