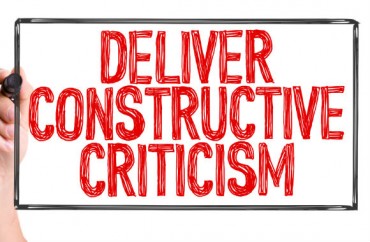 Critical race theory is largely far-left garbage masquerading as intelligent thought, but this doesn't mean it should be banned via constitutionally dubious legislation.
And well-thought-out anti-CRT bills shouldn't be abused with specious complaints. I expressed these concerns a month ago, and a recent situation in Tennessee raises some eyebrows.
According to Education Week, the group Moms for Liberty contacted the state's education commissioner, Penny Schwinn, to complain about the book "Ruby Bridges Goes to School."
As a six-year-old girl, Ms. Bridges was the first black student to desegregate Louisiana's public schools.
EW's Eesha Pendharkar notes Moms for Liberty said the book made white students "feel uncomfortable," and she offers this quote from the group's chairperson, Robin Steenman: "Targeting elementary age children with daily lessons on fighting past injustices as if they were occurring in present day violates Tennessee law and will sow the seeds of racial strife, neo-racism (and) neo-segregation."
Not being one to trust EW to offer a balanced portrayal, I went and did some checking. The Tennessean reports Steenman also complained Bridges' book "too harshly delineated between Black and white people, and that the book didn't offer 'redemption' at its end."
It also notes Steenman objects to educators teaching words like "injustice," "unequal," "inequality," "protest," "marching" and "segregation" in grammar lessons.
The Federalist says Steenman and Co. object to the curriculum called "Wit and Wisdom" (used "in at least one school" in all 50  states), in particular the themes of "cannibalism, white people being inherently racist and otherwise bad, suicide ideation, extreme emotion, graphic death, and anti-American sentiment" in its children's books. It links to a Moms for Liberty PowerPoint presentation which details the group's misgivings.
MORE: Social studies teacher praises state's anti-CRT efforts
It's certainly arguable the overall tone of the curriculum can be construed as negative, and various entries clearly demonstrate this. For example, slide 72 about the third-grade book on immigration "Coming to America" highlights the sentence "Sadly, new arrivals are often poorly treated by other Americans just because they look or act differently."
What is the factual basis for using "often"? There likely isn't one, but it gives the impression the United States is a big meanie. The subsequent pages on the topic aren't much better, treating illegal immigration as some sort of noble endeavor.
Nevertheless, numerous complaints come across as very nitpicky. The Bridges book doesn't appear until slide 58 and includes the following: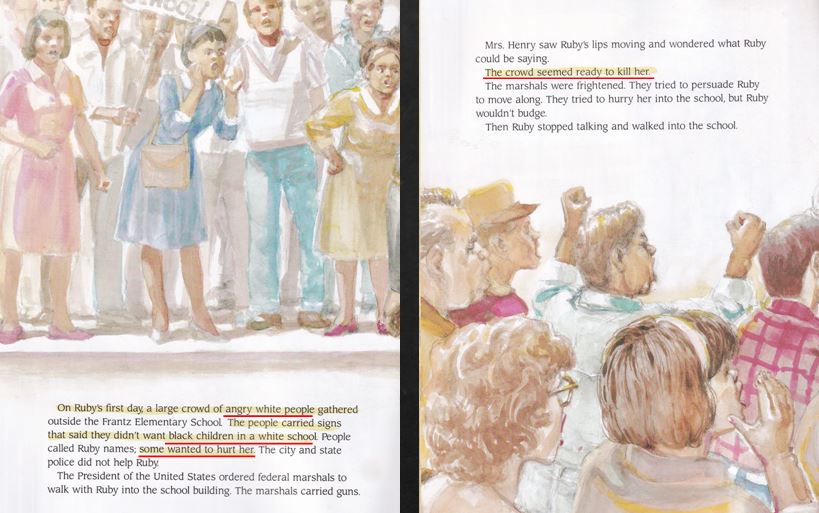 Note the highlighted text. Perhaps less hyperbolic terminology could have been used, but overall — what's the problem? The protests against Ridges were nasty and hateful. And poor Ruby was around the age of the book's target audience at the time of her ordeal.
Consider, too, slide 41 from a second-grade book on the character Johnny Appleseed: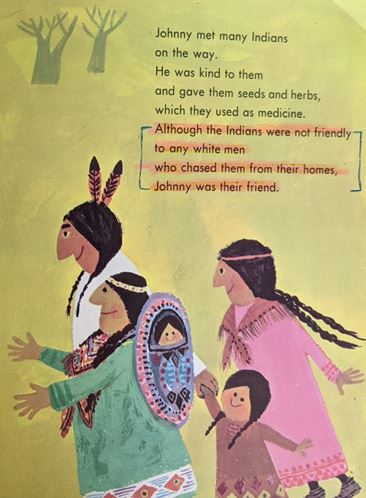 The complaint in the notes for the slide reads "Reinforces the message that White People are mean for chasing 'Indians' who are victims." The very next slide shows an image of Appleseed trying to make peace between (white) settlers and Natives: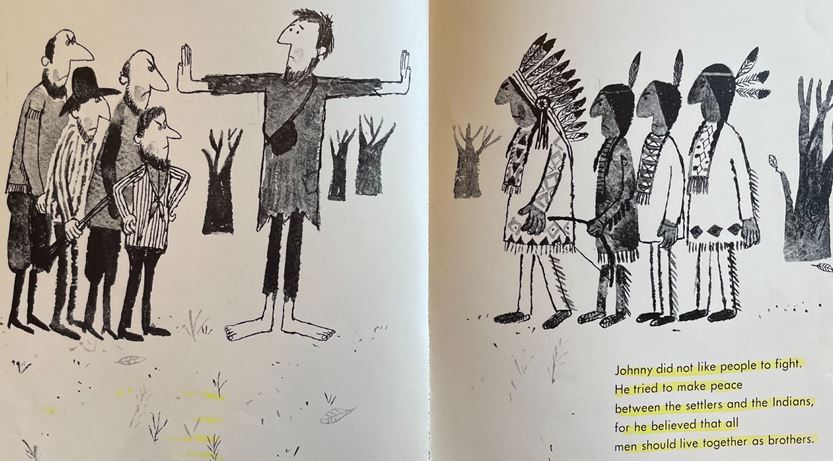 The beef with these pages: "Shows the conflict between White people and Native Americans." So? A subsequent complaint asks "When we learn about legends, shouldn't we be teaching 2nd graders the happy versions?"
This is the sort of stuff that plays right into the hands of CRT adherents who say critics want a "sanitized" version of history, etc. If anything, the Appleseed images offer a rather "clean" version of the conflict with Natives … and even portray the subject as a sort of "white savior."
Good teachers will fill in gaps in their curricula, especially when students' questions come up. We hope they'll do it intelligently and with balance. But if not, it's up to parents to do the gap-filling, and to also make sure educators, school and district can any politicking.
MORE: School district pays CRT professor $15,000 to rewrite curriculum
IMAGES: Gustavo Frazao / Shutterstock.com;  Moms for Liberty / "Let's Talk About Wit and Wisdom" screencaps
Like The College Fix on Facebook / Follow us on Twitter