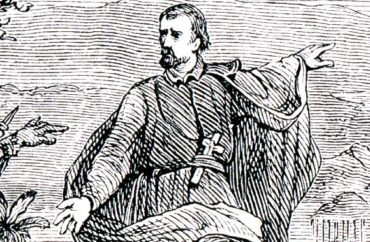 Jacques Marquette's order said they trust the city to do a good job
A Chicago advisory committee tasked with exploring controversial works of art has set its sights on four works of art that honor the legacy of Midwestern explorer and Jesuit priest Jacques Marquette, the namesake of Marquette University.
However, the Chicago Monuments Project Advisory Committee has not consulted with historians at Marquette University or Loyola University Chicago, another Catholic Jesuit university. The committee put a total of 40 works of art up for "public discussion" on what to do next.
"We welcome the input of scholars at Loyola/Chicago or Marquette University," Christie Carrino, a communications director for the city's cultural affairs department, told The College Fix via email. She said that the cultural committee has "offered opportunities on our website chicagomonuments.org for organizations to host their own educational programming."
The committee is tasked with reviewing statues, plaques and other memorials to historical figures and events in the city. It has also put statues of Abraham Lincoln, Christopher Columbus and Benjamin Franklin under review.
Carrino did not answer a question from The Fix about which historians specifically the committee had consulted about the legacy of Marquette. However, Carrino said the priest advanced a "colonial legacy."
"Marquette and Joliet's voyages were part of a larger colonial legacy that had devastating and tragic effects for American Indians of the region," Carrino said. "In almost all of the images, American Indians are given a secondary role.
The committee selected pieces of art based on a variety of criteria. They looked for monuments that "promoted narratives of white supremacy" or memorialized "individuals with connections to racists acts, slavery, and genocide."
In addition to scrutinizing historical figures and events, the committee also evaluated monuments that "presented inaccurate and/or demeaning characterizations" of Native Americans in order to honor the legacy of this people group.
"The Chicago Monuments Project does not intend to diminish the impact of explorers such as Marquette and Joliet," Carrino said, "but rather to stimulate discussion how their legacies have been presented in our monuments and memorials."
No response from two historians on the committee
The Fix contacted co-chair of the advisory committee Jennifer Scott and committee member Adam Green twice via email in the past two weeks.
The Fix asked Scott, a historian and professor affiliated with the University of Illinois-Chicago, for more information on what the committee finds problematic about Marquette's legacy but did not receive a response.
Green, a University of Chicago history professor, did not respond to the same questions.
Jesuit priest suggests nuance to the issue
A Jesuit priest and theology professor at Marquette University said the issue requires nuance.
"Marquette dedicated his life to bringing Christianity to the Indigenous peoples of the Upper Midwest," Aaron Pidel told The Fix via email. "Though I know of no evidence that Fr. Marquette considered the Indigenous peoples racially inferior, he doubtlessly believed that he was 'elevating' their religious and cultural level."
Pidel said that Marquette's beliefs do not justify a potential cancellation.
"This presumption of higher cultural attainment alone does not, it seems [to] me, warrant the 'canceling' of his memory. Judgments of this kind, even if not always correct, are inevitable in life," Pidel said.
"Even the movement to obliterate monuments implies the moral superiority of the obliterators over certain others, namely, the obliterated," the professor said.
Jesuit regional office has not been consulted
The Midwest Jesuits, which oversees the religious order's activities in states including Illinois and Wisconsin, said they have not been contacted for advice from the committee but they trust it to do its work fairly.
"While we have not been contacted by the Chicago Monuments Project, we trust that they will be thoughtful in their work," Quentin McGuire, a spokesperson for the Chicago-based office told The Fix via email.
"The question of how to project, celebrate and reconcile humanity's collective history is a complicated one," he said. While "it's entirely fair to assess history and historical figures through the lens of today's norms," McQuire said "it's also important to recognize the norms of a particular point in history; not as an excuse, but as context."
MORE: Marquette considers redoing its seal of namesake
IMAGE: Sergey Kohl/Shutterstock
Like The College Fix on Facebook / Follow us on Twitter