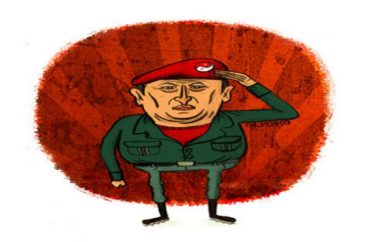 Members of the Chicago Teachers Union traveled to Venezuela last month to "learn what they could from [the country's] Bolivarian Revolution, exchange views on effective education," and to "show solidarity with the students, teachers and social movements."
Venezuela has been embroiled in political and social chaos for several years now.
Back in March, the CTU — which represents 25,000 teachers and support staff — passed a resolution calling for the suspension of sanctions against Venezuela, and for the United States to "cease all threats, military mobilization, and  interference in the economic and internal politics and affairs of the Venezuelan people."
According to Fight Back! News, the teacher delegation met with representatives of the Nicolás Maduro government as well as "on-the-ground" activists. CTU Area Vice President Sarah Chambers said "Through major economic hardships […] Maduro never closed a single public school or a single health clinic. This stands in stark contrast to our experience in Chicago, where Mayor Rahm Emanuel closed 50 public schools and several mental health clinics in a single year."
Today, I had the honor of standing behind Nelson Mandela's grandson at a Venezuelan rally. He spoke strongly in support of Maduro. Mandela & his org were on USA's terrorist list when they fought against apartheid. Lesson is don't trust USA propaganda#CTUAgainstVezIntervention pic.twitter.com/asezqhQVVZ

— Sarah4Justice (@Sarah4Justice) July 28, 2019
Venezuelan Director of International Affairs Vladimir Castillo told the teachers that the United States and Europe are responsible for the "economic war" which has ravaged the country. In addition, the CIA and "Venezuelan elite" are behind "guarimbas," or anti-government street gangs.
The Venezuelan government has transformed their state budget to where 75% of the nation's budget goes to social programs. "What country in the world does that?" asked CTU Math Teacher Valeria Vargas, "In the USA, 50% of our budget goes to war. Imagine if that money was put into education or health care? We had to strike for three days to get our charter school bosses to start to spend money on our students."

Unfortunately, all is not rosy in Venezuela. The mainstream news is right that there are some issues in Venezuela, and the people we have interviewed are in agreement, but where they are wrong is who has created those issues. For example, thousands of people have died here because they do not have insulin. Who is the biggest vendor of insulin? The U.S.

U.S. and European sanctions against Venezuela have caused thousands of deaths. The U.S. imposes these sanctions on other countries too. If another country trades with Venezuela, the U.S. will threaten to cut off trade with them or impose sanctions on that country.
The teachers have a blog detailing their visit titled Radical Educator Collective.
h/t to The New American
MORE: Women's college funds pro-Venezuelan events 3 semesters in row
MORE: Scripps College panels celebrate Venezuela's socialist regime
IMAGE: elkokoparrilla / Flickr.com
Like The College Fix on Facebook / Follow us on Twitter