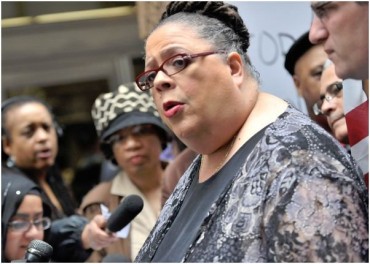 Karen Lewis, head of the Windy City's teachers union and possible mayoral opponent to Rahm Emanuel, owns three homes and makes more than $200,000 per year, the Chicago Sun Times reports. Two of the homes are located in Hawaii and the "upscale 'Harbor Country' area of southwestern Michigan."
Lewis has criticized Emanuel as a "a tool of corporate Chicago" and has dubbed him "Mayor 1%."
The mayor makes $216,200 a year.

That's about $15,000 more than Lewis made from her two union salaries, according to the most recent union tax filings.

The CTU reported to the Internal Revenue Service that it paid Lewis $136,890, plus $18,687 in "nontaxable benefits," for the year ending June 30, 2013.

Lewis has a three-bedroom, three-bathroom condominium on the Big Island of Hawaii. Lewis and her husband — a retired Chicago physical education teacher — bought the 1,300-square-foot unit in the Waikoloa Villas in 2011 for $240,000, property records show. It's a short drive from an oceanfront lined with Fairmont, Hilton and Marriott luxury resorts.

In Chicago, Lewis and her husband live in a condo in Kenwood they bought seven years ago for $405,000.
Four years ago, Lewis vowed not to make more money than the city's highest-paid teacher. But payroll records show that no teacher earns what she does.
Lewis blames the disparity on the fact that teachers only work thirty-nine weeks, and her salary is based on "the full year." (Ironically, many teachers, especially vocal union advocates, take umbrage at the claim teachers work "only" during the school year.)
Aside from this current situation, Lewis made news last year by blaming "rich white people" for Chicago schools' money woes.
Lewis is still undecided on the mayoral run. A recent poll shows her leading Emanuel in a possible race.
Read the full article here.
h/t to Instapundit.
Like The College Fix on Facebook / Follow us on Twitter
IMAGE: WBEZ/Flickr