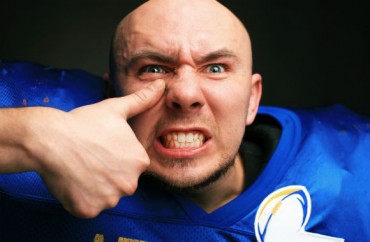 'Note: Some images in this article contain offensive language as part of a campaign against its use'
Three years ago, California State University-Chico felt compelled to clarify to gay students that they can participate in campus sports ("You Can Play").
Now it's clarifying to student athletes what they are not allowed to say – by putting those words and phrases in big block letters on posters.
Based on Duke University's "You Don't Say" campaign, which later spread to its athletics department (example: "Run like a girl" is prohibited), the new campaign by the Chico State Student Athlete Advisory Committee (SAAC) takes a broad view of what can offend people.
"Look at you, you run like a girl! Come on, run like a man! Lift your knees!" "The Airport" is on #Seinfeld tonight! pic.twitter.com/4uhDFuJ5JU

— Seinfeld (@SeinfeldTV) September 15, 2014
In an athletics press release last month – which came with a trigger warning ("Note: Some images in this article contain offensive language as part of a campaign against its use") – SAAC Co-President Haley Kroll said she was "blown away" by the Duke campaign:
 I thought this would be a good follow-up to ['You Can Play'], touching again on how it doesn't matter who you are or how you identify yourself. The main point is that everyone is welcome and we are a family.
MORE: Duke decrees that 'man up' is offensive, cannot be spoken
Except in this family, certain words are verboten:
Coward ("You can't judge someone else by your own standards")

That's Gay ("Being gay shouldn't be thought of in a negative connotation")

Just Kill Me ("Suicide is not a joking matter")

What Are You? (implies judging someone by their skin color)

Like a Girl ("Gender has no limits")

Nigga and the full N-word (a black athlete says it's "derogatory and offensive" to people of color)

Rape (implies that hard workouts are like sexual assault)

Spaz ("Due to my cousin's disabilities he cannot control")

You're a Pussy (uses women's bodies for "connotation" of weakness)

Runs Like a Girl ("Being a female doesn't hinder my athleticism")

You're a Failure (great people always fail first)

Shemale ("A woman's strength does not undermine her femininity")
There are more, all posted on the press release.
MORE: 'You Don't Say' campaign ventures into the absurd
The posters are already hanging in the athletics department's new Strength and Conditioning Center (designed for "all genders"), and will be added to the university administration building in December – suggesting that all students are expected to self-censor:
"People are going to slip up. They're going to say something they don't mean to say–maybe even the word that is on their poster," Kroll said. … The whole purpose of this campaign is to open people's eyes and let them see what these words mean and how hurtful they can be. Hopefully it will cause people to think before they speak and be aware of the type of inclusive language they should be using."
Remember: If you're offended by anything at Chico State, report it to the police.
Author Crystal Wright of the Conservative Black Chick blog isn't down with this poster campaign, writing on Mediaite:
GOONS at California State University-Chico have officially declared the English language offensive. …

True the N-word is nasty and unacceptable, but is Chico State going to ban students from listening to Hip-Hop music that makes prolific use of the word 'nigger' in songs? …

What would Kroll have the campus police do if students "slip up" and use a prohibited word on campus? Would Kroll want the campus police to take down students like the Chinese military did to students in Tiananmen Square? Or perhaps Kroll would be comfortable calling in the National Guard to shoot down student language violators like they did in 1970, when they shot students protesting against the Vietnam War on Kent State University's campus.
California State University Bans Words…'Cuz English Language Is Offensive https://t.co/tl3ATeatNr (By @GOPBlackChick) pic.twitter.com/vE2zhedT2S

— Mediaite (@Mediaite) October 27, 2016
See more posters at the athletics press release and read Wright's Mediaite post.
MORE: Cal State forces Christian students to let nonbelievers lead their clubs
Like The College Fix on Facebook / Follow us on Twitter
IMAGE: Yaroslav Kazakov/Shutterstock