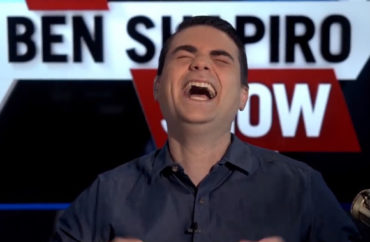 But forces College Republicans to rent expensive venue
When Gonzaga University blocked a Jewish pundit from speaking on campus, it cited its Jesuit values.
Conservative radio host and Daily Wire founder Ben Shapiro said he was coming anyway this spring, and now the private university has agreed to accommodate his presence – sort of.
It released a statement Monday that said the College Republicans, which invited Shapiro, had agreed to "an event location and protocol that will provide a more appropriate level of safety and security for this event."
The student club went through the appeals process, providing more information about Shapiro's planned visit, the university said. President Thayne McCulloh thanked the CRs for addressing "issues regarding safety and campus security" and discussing "the focus of the event."
The university initially said that Shapiro's presence would threaten "vulnerable members of our community who may be targeted for discrimination, ridicule, or harassment by others," violating the "core of our mission based on the teachings of Christ Jesus."
The CRs announced the university's reversal on Facebook Monday afternoon, saying it needed to raise the money to afford the cost of its new venue, the McCarthy Athletic Center, which "is not cheap." The club did not immediately respond to a College Fix Facebook message asking for its response to the university's characterization of its compromise.
Grand Canyon University, meanwhile, continues to face blowback for its continued refusal to allow Shapiro on campus, owing to its desire to "bring people together." The interdenominational Christian university with Baptist roots says it has 19,000 "ground" students as of fall 2017.
Christian college @gcu beclowns itself by shutting down a @benshapiro talk, and then it compounds its disgrace with this convoluted, nonsensical, half-literate explanation https://t.co/QiilyYJHSe

— Sohrab Ahmari (@SohrabAhmari) February 4, 2019
The job of a university is not to exclusively invite speakers who "bring people together" (whoever that is in 2019). It's to challenge young minds w/ideas different from their own & help them think critically. Which makes them stronger&smarter.GCU blew it. https://t.co/RY1myNT295

— Megyn Kelly (@megynkelly) February 4, 2019
Cowards with eloquent rationalizations are still cowards. https://t.co/7Md60M3Nbd

— Jordan B Peterson (@jordanbpeterson) February 3, 2019
@gcu save the propaganda. Your statement uninviting @benshapiro from speaking at your "Christian institution" mocks the very "Christian values" you claim to support. Even Christ (you remember him) engaged the Pharisees in debate (John 8:30-47 ). #bogus https://t.co/X3akePqF53

— Michael Steele (@MichaelSteele) February 3, 2019
Read the university's statement and CRs' announcement.
h/t KHQ
MORE: Gonzaga cites its faith to ban Jewish speaker
MORE: Christian university bans Jew to 'bring people together'
IMAGE: The Daily Wire/YouTube
Like The College Fix on Facebook / Follow us on Twitter