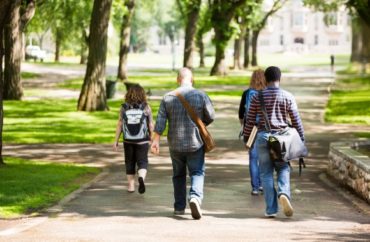 The 23-campus California State University has dropped the SAT and ACT standardized tests requirement for its admissions process, citing equity concerns.
The move means no student need take standardized exams to enroll in California's public higher education system, as the University of California system already did away with the requirement in 2020.
The California State University is the largest four-year higher education system in the country with 477,000 students.
California's public education systems educate more than 700,000 students, with the Los Angeles Times reporting that the testing drops "are likely to accelerate the national movement to reshape the college admissions process."
In making its decision, Cal State officials cited "equity and fairness, academic preparation … and extensive research on standardized testing and college admission."
"This decision aligns with the California State University's continued efforts to level the playing field and provide greater access to a high-quality college degree for students from all backgrounds," said Acting Chancellor Steve Relyea said in a news release.
"In essence, we are eliminating our reliance on a high-stress, high-stakes test that has shown negligible benefit and providing our applicants with greater opportunities to demonstrate their drive, talents and potential for college success."
However, not everyone agrees with such assessments. In fact, a UC system task force recommended that the exams be kept. More recently, the prestigious Massachusetts Institute of Technology reinstated mandatory submission of standardized tests for admissions decisions.
The decision from California's university systems is not an isolated one — as of March 2022, upwards of 1,800 schools do not require SAT or ACT scores from applicants. Such policies at major universities, however, have some experts voicing concerns over long-term effects.
Frederick Hess, director of education policy studies at the American Enterprise Institute, said that test scores give admissions offices a window into prospective students' skills that other academic measures fail to.
"Research makes clear that students can take impressive-sounding classes and get good grades, and yet not have the skills that those classes and grades imply," Hess told The College Fix. "Admissions tests like the SAT and ACT can be an invaluable safeguard against all of this."
Some, however, see the SAT as the source of unnecessary barriers to their career.
CSU Trustee Yammilette Rodriguez recounted to the Los Angeles Times her journey from a rural school where she lacked the resources to adequately prepare for college, having to opt for community college before entering CSU.
Rodriguez said her school didn't prepare her for the SAT: "Because of the enrollment barriers that I faced, and lack of tools offered to me as a student, I wasn't equipped to have entry into the CSU … I know that my story is the same for many all across California."
Hess similarly notes that testing requirements have downsides.
"[T]he SAT and ACT ought not to be romanticized," he said, but maintains the usefulness of such requirements: "Without admissions tests that put grades in context, schools may feel pressed to hand out high grades or play transcript games in order to help their students get into college."
That was the reason MIT reinstated the testing requirement.
"Our research shows standardized tests help us better assess the academic preparedness of all applicants, and also help us identify socioeconomically disadvantaged students who lack access to advanced coursework or other enrichment opportunities that would otherwise demonstrate their readiness for MIT," Dean of Admissions and Student Financial Services Stuart Schmill said in the announcement.
Schmill argued that the SAT helps the university "accurately predict student academic success at MIT⁠" and this would "raise socioeconomic barriers to demonstrating readiness for our education."
MORE: Standardized tests aid minority students by measuring academic college preparedness
IMAGE: Tyler Olsen / Shutterstock
Like The College Fix on Facebook / Follow us on Twitter