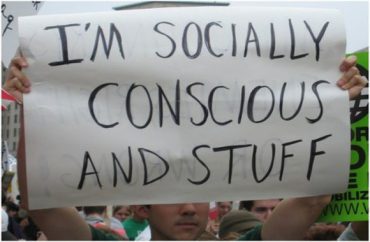 As part of the Global Climate Strike last weekend, upwards of 3,000 participants around the University of Michigan region converged on the campus, with some ultimately occupying President Mark Schlissel's office.
According to The Michigan Daily, the crowd was comprised of local students and community members, 60 of whom joined the sit-in inside the Fleming Administrative Building. They refused to budge until Schlissel agreed to a one-hour meeting with students without any pre-screened questions. He did not.
After over seven hours, the occupiers were given orders to disperse; however, ten — including two minors — chose to remain and were promptly arrested. (True to form, a press release from the Washtenaw County Climate Strike alleged that one of the minors, a 15-year-old black girl, "was held inside for longer than white demonstrators" and hence was an example of racial profiling.)
The protesters' demands are a hodgepodge of far-left progressive nuttery with little basis in reality. For example, one demand is "End All Extraction and Burning of Fossil Fuels" (note the postmodernist terminology):
Refuse interim or false solutions, such as carbon offsets, which provide wealthy institutions a means to continue burning fossil fuels with no accountability. These "solutions" promote relationships that allow wealthy countries to exploit and control land in the global south by commodifying the fight against climate change. (Both directly, through imperialist extractive projects, and indirectly, through waste colonialism, which appropriates land in the global south for dumping toxic waste and plastic)
The point about carbon offsets, at least, is a good one; climate bigmouths like Al Gore have bragged about their offsets all the while spewing way more carbon into the atmosphere than any average joe. Just imagine if Gore actually lived according to his sermons and utilized his carbon offsets … !
Other demands demonstrate little-to-no knowledge of economics, let alone US politics:
–Divest from the prison-industrial complex to invest in meeting basic needs such as equal access to renewable energy, clean water, clean air, good food, quality health care, and housing for all

–Support energy democracy by the municipalization and localization of energy production at the university, city, county, and state level, beginning with low-income communities

–Make space for and commit resources to accepting and meeting the needs of climate refugees, regardless of nationality or documentation status. (This would also necessarily include abolishing ICE and other immigration detention centers)

–Guarantee that employment positions during and following transition be well-paid, unionized, provide required on-the-job training with compensation, and be safe and accessible to all. Priority for hiring in these positions should be given to members of communities who are most negatively impacted and current workers whose jobs become obsolete.
UM senior Olivia Perfetti said President Schlissel's refusal of their demand for a meeting "means that there's something really wrong in the administration."
Senior Tegwyn John claims a police officer informed her that getting arrested could negatively affect her future: "I laughed because climate change is definitely going to affect my future — a criminal record may or may not, depending on what I chose to do with my life," she said.
Read the Daily story and complete list of student demands.
MORE: Cornell class turns student into vegan, climate activist
MORE: Student op-ed: Scrap democracy to save the planet from climate change
IMAGE: Sam Felder / Flickr.com
Like The College Fix on Facebook / Follow us on Twitter