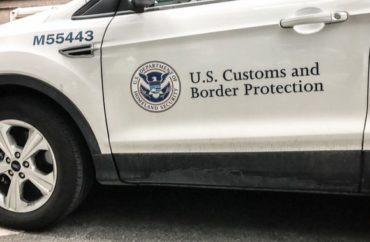 Virtual career fair is 'the same as letting them walk onto our campus'
Customs and Border Protection is already an unpopular campus presence for college students across the country.
But the Department of Homeland Security component became even less popular at American University after a recruiter accidentally emailed a spreadsheet full of detailed personal information to students and alumni.
Now the campus chapter of the College Democrats is capitalizing on the incident to demand the administration ban CBP from "all American University campus functions," both virtual and physical events.
CBP participated in a virtual career fair on May 15, according to The Eagle campus newspaper. While the report doesn't say so explicitly, it suggests that recruiters received information on every registrant for the fair, regardless of whether they expressed interest in any given recruiter:
The job and internship fair took place through CareerEco, a virtual recruiting platform, from 1 to 4 p.m. EST. Before attending the fair, students and alumni registered on the platform by indicating their major, industry, position types they are interested in and whether they required visa sponsorship.
A few days later, CBP's recruiter sent the spreadsheet as an attachment to registrants. It included links to more than 1,100 resumes as well as highly personal information, including "many registrants' cities, states, phone numbers and graduation dates," in addition to visa sponsorship information. A field on the sheet denoted which students had expressed interest in CBP; The Eagle said it was 61.
MORE: CBP backs out of campus career fair after petition calls it unsafe, offensive
CBP provided a statement to the newspaper claiming that the "unintentional disclosure of personally identifiable information" only concerned "a limited number of potential CBP job applicants." The agency said "the affected individuals have been initially notified and additional steps will be assessed to ensure minimal impact to those affected."
The AU College Democrats created a petition last week not only demanding a ban on CBP participation in any university setting, online or on campus, but also a ban on the university or its contractors requiring students to "share their personal information to get a career opportunity."
The petition made more specific factual claims than did The Eagle, including that students had to provide their campus ID numbers and that they "had no control over which [recruiters] would be receiving their information, like a regular career fair."
The university's relationship with CBP, which a campus spokesperson continued to defend after the leak, "is completely inexcusable in our opinion considering the abusive treatment of immigrants and people of color that has ensued in the organization," the petition reads:
While it was a virtual event, allowing CBP to take part in our school function is the same as letting them walk onto our campus. If COVID-19 had gone differently, this event would have been in person and CBP would have been on our campus, attempting to recruit students. Having the presence of CBP on AU grounds without notifying students would have put several students in danger and showed a complete disregard for many students' personal safety. This is exceptionally scary and unfair for immigrant and undocumented people at AU. No student should ever be put in a place where they have to share their personal information to get a career opportunity, and AU does not have the right to provide this information to organizations without a student's consent.
The petition has just under 200 signatures as of Monday afternoon, though it's not possible to tell how many are AU students or alumni. Only 13 signatories allowed Change.org to display their names and reasons for signing, and only three comments imply the commenter is an AU student or alum.
Read the news report and petition.
MORE: College Democrats 'publicly condemn' federal border patrol agents on campus
IMAGE: Roman Tiraspolsky/Shutterstock
Like The College Fix on Facebook / Follow us on Twitter