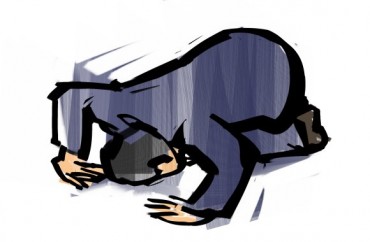 Today is #GivingTuesday. Click here to make your tax-deductible gift online. It's fast, easy and secure. As a nonprofit, we truly appreciate your support.
About a month ago, Columbia University's College Democrats savaged their Republican peers for inviting anti-Islam and conspiracy-theory speakers to campus.
But they also took their allies to task for trying to shut down events with speakers they don't like, including Charles Murray at Middlebury College and Milo Yiannopoulos at the University of California-Berkeley.
The club wrote in the Columbia Daily Spectator that "these bigots are empowered rather than erased" when students fight them with their emotions rather than their reason:
When we try to shout down white nationalist speakers, it provides credence to falsehoods such as "both sides are at fault" or "students don't believe in free speech." … If these speakers did not get so much attention when they came to college campuses, their despicable ideas would remain confined to the dustbin of history.
Three weeks later, the College Democrats publicly rejected everything they wrote and apologized for being insufficiently intersectional.
In a remarkably groveling "statement of redaction and responsibility" published in the Spectator last week, the club went so far as to "condemn" themselves for expressing basic common sense: "This statement is far too little and too late, but necessary all the same."
The College Democrats faulted themselves for "reckless inconsideration of identity-based groups," "hypocrisy … and the dangerous nature of our actions." Their op-ed, written by members of the executive board, "misrepresented the values of our general body."
They even apologized for hosting their own counterprogramming during the College Republicans' events, saying the College Democrats "acted as though we knew better" than the shoutdowners and should have instead collaborated with their illiberal and censorious peers.
MORE: Columbia refuses to punish students for shouting down speaker
One student yells "fuck you" from the audience as @Cernovich enters. He responds: "you are my marketing intern right now" pic.twitter.com/R9nhjKygRE

— Columbia Spectator (@ColumbiaSpec) October 31, 2017
You really have to read the whole thing, which has the tone of a captured North Korean defector scrambling to save his life:
The fact that we did not apologize for our statements immediately after the release of the op-ed placed an unfair burden on the groups targeted by white supremacy to bring attention to our failures. …

[By accurately describing student protesters as "shouting down" speakers,] we minimized and undermined the labor of groups who organized against the speakers. …

We take full responsibility for the ways in which we were complicit in supporting the violence caused by the visiting speakers, violence which is also perpetuated by American society. We recognize that these actions have made our community members more vulnerable while bolstering white supremacy. We must change without putting it on others to teach us and without looking for any kind of acknowledgement for doing so. …

We will show up and support [the work of identity-based groups] by attending protests and events. … We admire, support, and seek to honor the work of those committed to combatting [sic] injustice. To the people we failed and disappointed: We are sorry.
MORE: Black student activists demand defunding of CRs: They 'oppose our humanity'
The retraction letter alludes to criticism of the College Democrats, published the prior week in the Spectator, that the club "has regularly been absent" from coalitions of left-wing activists this academic year, particularly anti-Israel activism:
"The official Democratic platform is pro-Israel and they've continued to hold events with groups like Aryeh and promote Zionist speakers on campus. And that's not a good or a bad thing, it's just a fundamental incompatibility," said [Student-Worker Solidarity] and [Columbia Divest for Climate Justice] organizer Sofia Petros, CC '19.
Its president's explanation of its absence from these coalitions – that "our goals are very much elections-based" – was too much for the newly self-flagellating executive board:
[W]e recognize the historic ideologies of the national Democratic Party platform, which continue to oppress marginalized groups. Our Spectator op-ed and our recent actions contradict our commitment to diversity and inclusion stated in our governing document.
So there you have it: Unrepentant anti-Semites and self-described socialists have shamed these young Democrats to apologize for being Democrats.
Read the original op-ed, retraction letter and Spectator coverage of the Democrat-activist tension.
MORE: Columbia quiet as student official floats pre-approval for CR events
IMAGE: Shutterstock
Like The College Fix on Facebook / Follow us on Twitter