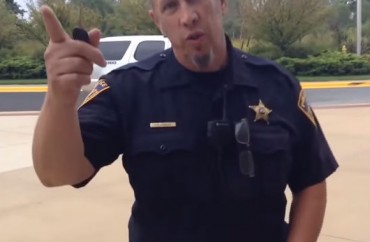 Pro-marijuana activists still apparently banned
An Illinois community college that drew outrage last year for giving its free-spending president a lucrative buyout package now has one less image problem to worry about.
College of DuPage has revised policies that govern "distribution of printed materials" after a campus police officer was captured on video threatening to arrest students for passing out copies of the U.S. Constitution and Bill of Rights last fall.
Alliance Defending Freedom represented one threatened student in a letter to the college, and on Tuesday the group took credit for the policy change.
The new policy still puts several restrictions on speech in outdoor, public areas. It only allows distribution of printed materials between 8 a.m. and 6 p.m. and "during meetings at which any business of a public body is discussed or acted upon."
A prohibition on distributing materials that "encourage the violation of federal, state, or local laws" would seem to ban pro-marijuana activism. When Iowa State University prevented pro-marijuana student activists from using its name and mascot in connection with their club, they took the school to court and won.
The old policy required students to turn in an application four business days ahead of their planned activism, with a "sample" of what they would distribute. They were limited to five days of activism each term and had to stay "behind the table."
'Soliciting your opinions' is not allowed 
The Sept. 18 incident in question featured Joseph Enders and his fellow activists soliciting students to join their fledgling Turning Point USA chapter at the college, handing out copies of the founding documents on the campus sidewalk. A police officer approached them and said they needed a Student Life permit.
Told by a woman off-camera that he was essentially prohibiting "free speech" on the sidewalk, the officer responded: "It's not free speech, ma'am, nobody's stopping you from free speech. But you can't solicit out here. … You're soliciting your opinions."
The officer told the students to visit the Student Life office, concluding: "You can't do it out here. Otherwise I'm going to have to lock you up."
RELATED: Outrage over golden parachute for college president who hid spending for years
Turning Point USA noted the irony in its own article about the sidewalk dispute: The student activists were also handing out the group's pamphlets that criticize free speech zones. The officer also told Enders he couldn't bring his American flag into the building to talk to Student Life.
'Further legal action' if policies aren't changed
According to an October letter from the alliance to the college, Enders attended a meeting of the board of trustees and urged them to change its policies requiring a permit to practice free speech on school grounds.
Though the board suggested it would do so, alliance attorney Tyson Langhofer wrote that he would offer his services free of charge "to make sure that College follows through with its stated intention to revise its policies." Otherwise Enders would have to "take further legal action" to protect his constitutional rights, Langhofer said.
Acting interim President Joseph Collins responded in less than a week, inviting Langhofer to address the college's Shared Governance Council at a November meeting.
Campus newspaper The Courier reported March 2 that the policy change had actually taken effect a month earlier but was only announced at a Feb. 18 trustees meeting. It noted the new policy also let students "use a table" in designated indoor tabling locations when a spot has not been reserved ahead of time.
"With these changes, the college has taken a big step towards truly being a marketplace of ideas, where students of all different backgrounds and beliefs will be free to communicate their opinions and ideas without fear of censorship or punishment," David Hacker, senior counsel at the alliance, said in its press release.
RELATED: Judge orders Iowa State to stop suppressing pro-weed campus activists
Like The College Fix on Facebook / Follow us on Twitter
IMAGE: Campus Reform/YouTube