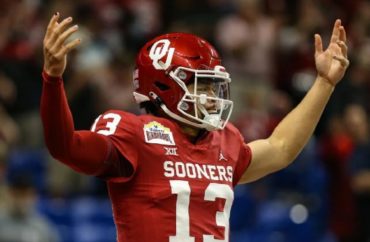 Legal experts say it could violate NCAA, state guidelines
A former NFL player has offered $1 million to a University of Oklahoma quarterback if he transfers to Eastern Michigan University.
But the offer likely violates NCAA policy and potentially state law, according to several experts that spoke to The College Fix.
"Hey [Caleb Williams] have you considered Eastern Michigan," Charlie Batch wrote on Twitter. "If not, you SHOULD. GameAbove Capital is prepared to pay you ONE MILLION DOLLARS for one year!" the former NFL quarterback wrote to the freshman Oklahoma student.
He works for the private investment fund that aims to "close the gap in funds available to women and minorities in the environmental and sustainability industry." Batch sits on a booster organization of EMU alumni called "Game Above."
Hey @CALEBcsw, have you considered Eastern Michigan, @EMUFB? If not, you SHOULD. GameAbove Capital is prepared to pay you ONE MILLION DOLLARS for one year! Are you ready be an EAGLE?@espn @CBSSportsNet @CBSSports @NBCSports @FOXSports @barstoolsports @MACSports @FS1

— Charlie Batch (@CharlieBatch16) January 5, 2022
He did not respond to requests for comment on if he had coordinated the offer with Eastern Michigan and the legality of the proposal.
The Fix contacted Batch through his company's email on January 11 and 13 and through his foundation's media email on January 19.
Carolyn Martin, an attorney specializing in publicity and trademark law, said the offer "seems to violate NCAA rules as well as Michigan law." She told The Fix that the current booster policy from the NCAA makes clear that boosters cannot offer money to prospective athletes.
Boosters, or "representatives of the institution's athletic interests," according to the NCAA, applies to anyone who donated to the athletics department, promotes the university's sports teams or helped recruit.
MORE: College athletics may never be the same after SCOTUS ruling
"NCAA rules prohibit anyone else from contacting (calling, writing or in-person contact) prospects or the prospect's relatives or guardian for recruiting purposes," the policy states.
Colleges in Michigan are prohibited "from providing a prospective college athlete with compensation in relation to the athlete's name, image, or likeness rights."
Martin and her fellow attorney Ethan Barr said they expect the NCAA to vote on January 22 to allow athletes to profit from their likeness, a currently interim policy.
"While universities still cannot pay salaries to players, and athletes still cannot accept money in exchange for enrollment at a school," the pair wrote."[T]he decision allows college students to profit from their likeness and social media accounts, as well as negotiate endorsement deals."
Williams has not responded to Fix questions about the offer, but sports websites have him going to either University of Southern California or University of Georgia.
The Fix contacted Williams (pictured) twice via Twitter on January 11 and 13, specifically asking if Eastern Michigan University had reached out to him with a transfer offer before Batch's. The Fix also asked if he had received any other transfer or endorsement offers.
The College Fix also contacted EMU's head coach Chris Creighton and assistant head coaches Neal Neathery and Jay Nunez on January 11 and 13. None of the coaches would answer questions on if they were aware of Batch's offer and if anyone on their staff coordinated with him.
Lack of state laws leads to unclear situation, professor says
Professor Matthew Mitten at Marquette University's law school said the "hodgepodge" of state laws makes the discussion about name, image and likeness rights a mess.
The executive director of Marquette's Sports Law Institute pointed to a NCAA interim policy that forbids "pay to play" in reference to Williams' situation.
"The NCAA has an interim NIL policy providing that its member schools and student athletes should comply with the law of their respective states," Professor Mitten told The Fix via a phone interview.
The June 2021 policy says athletes must "avoid pay-for-play and improper inducements tied to choosing to attend a particular school."
The lack of a federal law creates confusion, Mitten said. "Yeah, it's a quagmire with inconsistencies and no uniformity."
MORE: No limit to how much money college athletes can make from endorsement deals
Like The College Fix on Facebook / Follow us on Twitter