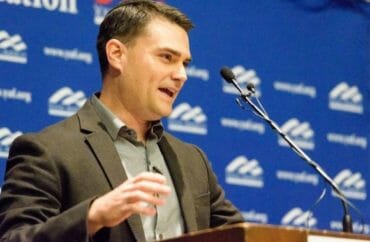 Cartoonist calls College Republicans 'Hitler Youth'
Ben Shapiro's campus lecture tour is no stranger to controversy, and with an upcoming talk at Stanford University, perhaps it was inevitable that the prestigious California school has been drawn into controversy ahead of the Daily Wire editor-in-chief's appearance there.
The event with Shapiro is to be held on November 7 by the Stanford College Republicans in conjunction with Young America's Foundation, and after it was announced, a cavalcade of outrage followed on social media among some Stanford alumni, students and others.
Among the chorus is Eli Valley, a political cartoonist who made headlines after he made a series of anti-Semitic cartoons for a pro-Palestinian group at Stanford last spring ahead of his own event.
According to Twitter screenshots obtained by The College Fix, Valley declared the College Republicans to be a "hate group," calling them "Hitler Youth Stanford Division," and said they had invited a "Holocaust revisionist" and a "Jew for Jesus" in the past. Valley called Shapiro a "hatemonger" and again propped up his cartoons from May.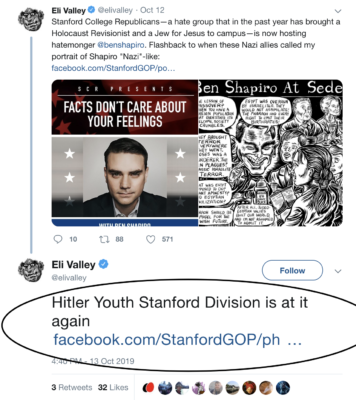 The Stanford College Republicans, in a Facebook post, called Valley's claims about the group and Shapiro "laughable, particularly when they come from a man who has made a name for himself by resurrecting Der Sturmer's anti-Semitic propaganda and recruiting Jew-hating organizations like Stanford Students for Justice in Palestine to post his 'art' on the walls of dormitories."
Prominent tweeter and Trump critic Dr. Eugene Gu, an alumnus of Stanford, declared Shapiro to be a "dishonest troll with zero intellectual depth or critical thinking skills," and that the decision by Stanford leaders to allow him to speak is an "absolute disgrace."

Gu was not alone in his criticisms of Shapiro and Stanford, with a notorious faculty member joining in.
David Palumbo-Liu, a professor of English at Stanford, posted on Facebook claiming that Shapiro's words were harmful and that the university was being used by "charlatans."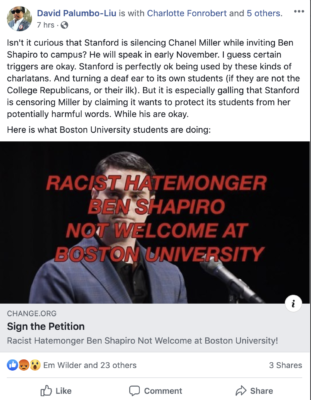 Palumbo-Liu has a colorful history at Stanford. In 2018, a group of students led by the Stanford College Republicans demanded he be fired due to his ties with Antifa. He also has a history of anti-Semitic activism.
Due to Gu's following on Twitter, which numbers well over 300,000, his tweet prompted a firestorm of responses, including from some students, with one declaring Shapiro to be a racist for saying he didn't think rap music qualified as music, and another student saying she was "disgusted."
In response to the outrage, Stanford College Republicans wrote a fire-and-brimstone reply on Facebook, noting: "This group of anti-Semites, baby-killers, and domestic terrorist affiliates, a true coalition of the wicked, is trying to eliminate freedom of speech at Stanford. We will not allow this morally inverted cabal to dictate to us who we can and cannot host at Stanford."
Young America's Foundation, which sponsors Ben Shapiro's lecture series, also issued a press release about the criticism the event has faced.
"The Left trots out these same tired talking points about Shapiro, YAF, and conservatism being dangerous every time YAF and Shapiro announce a campus lecture, and the Left's blathering is proven untrue at each event," foundation spokesman Spencer Brown wrote. "YAF's student activists work tirelessly despite these grifty lefties and know that their opposition isn't based on any claimed moral compass, but in fear that conservative ideas will take hold among the rising generation."
Attempts via phone and email by The College Fix to reach Stanford University for comment were not returned. A voicemail message was also left with Stanford College Republicans President Stephen Sills.
MORE: Stanford pro-Palestine group vandalizes College Republicans' flyers with anti-Semitic cartoons
IMAGE: YAF
Like The College Fix on Facebook / Follow us on Twitter