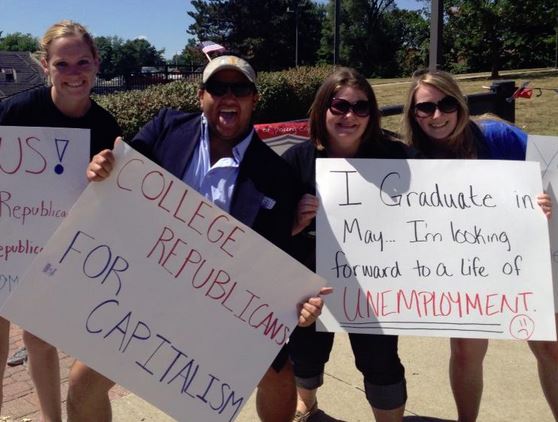 Editor's Note: This article has been modified from its original version to reflect that six students, not 10, were rejected from entering the speech, and that the students did not wait in line, but were headed toward the speech when turned around by security.
WARRENSBURG – Six College Republicans were dubbed a security threat and refused admittance to President Barack Obama's speech at the University of Central Missouri on Wednesday.
Despite the fact that the students had tickets to the event, security personnel turned them away from to the recreation center where Obama gave a speech on economic policy, telling the group it wasn't about their politics but the president's safety, State Treasurer of the College Republicans Courtney Scott told The College Fix.
The students, some of whom donned Tea Party T-Shirts and others who wore patriotic or Republican-inspired clothing, had protested the president earlier in the day on campus, but had put away their signs and said they were ready to simply listen to Obama when security shut them down.
The students were headed to the speech when they were turned around by Obama's security detail.
"It just didn't make any sense," Scott told The Fix. "A lot of us traveled several hours to watch the speech. We were very disappointed not to be able to attend."
The small group of College Republicans were confused as to why such extreme security precautions were directed at them – but not at the 2,500 other audience members who were granted admission to the event, Scott said.
The speech, the start of Obama's national tour to tout his latest plan to revive the sluggish national economy, drew a crowd to the university's recreation center, creating a crowded, stuffy and stifling environment, some observers said.
The intense heat of the day, coupled with the late arrival of Obama, prompted some audience members to suffer heat exhaustion – a few even fainted. Plenty of people left the venue early, prior to Obama's speech, generating seats to be filled regardless of whether the students had tickets.
The students' protest earlier in the day was a peaceful one, consisting of holding political speech signs and talking to passersby throughout the morning, Scott said. They were asked to protest at the "public speech area" on campus, not anywhere near the rec center. They were not allowed within eyesight or earshot of people who were waiting in line.
The Mizzou Republicans were among about sixty protesters, half of whom were college students, who had voiced concern Wednesday over Obama's economic policies in the wake of the country's ongoing recession.
Some of the signs called for capitalism, others illustrated discontent with Missouri's 16 percent unemployment rate among college student youth, and the increasing share of national debt students are saddled with year by year.
Fix contributor Christopher White is a graduate student at the University of Missouri and an editorial assistant for The College Fix.
Click here to Like The College Fix on Facebook. /  Twitter: @CollegeFix