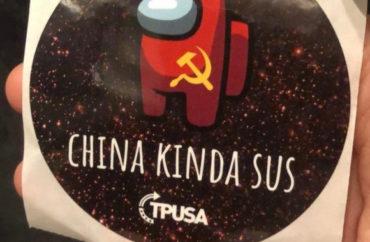 'The result is that Emerson students — and presumably faculty — cannot criticize China's government,' free speech advocacy group warns
Despite acknowledging a conservative group did not intend to target Asian students by handing out stickers reading "China Kinda Sus," the Emerson College Conduct Board has nonetheless ruled the group violated its bias policy when members distributed the stickers.
In distributing the stickers in late September, members of the Emerson chapter of Turning Point USA "engaged in discriminatory conduct on the basis of national origin," according to the board.
The distribution "had the effect of 'unreasonably interfering with' the Complainant's enrollment and/or had the effect of creating a hostile, intimidating, or offensive working, living, or learning environment," the board recently ruled.
The board added that although it found that members of the Emerson chapter "did not intend to target anyone other than China's government, handing out the sticker nonetheless had a discriminatory effect given the pervasive environment of anti-Asian discrimination that has developed over the past several years particularly in the wake of the COVID pandemic."
In the wake of the incident, a letter by Interim Emerson President William Gilligan had called the stickers "anti-Chinese messaging" that is "inconsistent with the College's values and will not be tolerated on our campus."
"Even though they admitted that we didn't intend to target anyone other than the Chinese government, they went ahead and convicted us either way," Sam Neves, president of Turning Point USA – Emerson, told The College Fix in an email.
"This decision sets a very dangerous precedent for all Emerson students. Even if the college admits you did nothing wrong, all it takes is one triggered student and the school will not hesitate to throw you under the bus."
A spokesperson for Emerson declined a request by The College Fix to comment for this story.
The sticker included a photo from a popular online game called "Among Us," where players try to guess who the enemy is. The phrase "China kinda sus" refers to being "suspicious" or "suspect."
The Foundation for Individual Rights in Education, who had sent a letter to Gilligan objecting to the college's suspension of TPUSA for the incident, sent him a second letter on Wednesday urging him to reverse the continued ban on distribution of the stickers.
"At core, Emerson concludes that its campus is subject to 'pervasive' anti-Asian discrimination and that the burden of redressing this discrimination falls on the shoulder of a student group Emerson concedes did not (and did not intend to) engage in discriminatory conduct," wrote Graham Piro, FIRE Individual Rights Defense Program Officer, in the letter.
"The result is that Emerson students — and presumably faculty — cannot criticize China's government," Piro wrote.
"Emerson makes laudatory commitments to its students' freedom of expression, invoking the sanctity of the First Amendment," said FIRE Individual Rights Defense Program director Adam Steinbaugh in an email to The College Fix.
"But it's abandoning those commitments when the going gets tough. Speech criticizing a particular country is almost always going to be objectionable to people who hail from or identify with that state. But that's not a good reason (if there could ever be a good reason) to squelch speech criticizing, or poking fun at, foreign governments."
While TPUSA is no longer suspended from campus, the group received a "formal warning" from the school threatening action if they are to once again violate any community standards.
While Emerson, as a private school, is not bound by the First Amendment, it has passed policies guaranteeing students the "right to freedom of speech … freedom of political belief and affiliation" and "freedom of peaceful assembly."
In a past statement, the school expressed the "high importance" of the First Amendment," adding that the "right to freedom of speech" is "not only a right but a community responsibility."
FIRE notes that limiting criticism of foreign governments could preclude students from criticizing South Africa for its apartheid policies or the government of Israel, whom some students may find anti-Semitic.
In addition to the recent TPUSA dustup, Emerson recently blocked Twitter users from posting images of Winnie the Pooh on its feed. In 2013, Chinese residents had been mocking President Xi Jinping by saying he looked like Pooh after seeing a photo of Xi walking with U.S. President Barack Obama. Later, Xi banned a Winnie the Pooh movie in China.
Further, in 2019, Emerson student Frances Hui talked to the New York Times about how she was bullied and threatened on campus by anti-Hong Kong demonstrators.
One protester posted a column Hui had written titled "I Am From Hong Kong, Not China," and responded to with with a Facebook comment that said, "Whomever opposes my greatest China, no matter how far they are, must be executed."
Hui said when she asked Emerson administrators to condemn the threats against her, she received no answer.
"Emerson College calls itself a place where "'ndependent minds give voice to daring ideas,' and they say that while shutting down any ideas that dare to differ from the norm," said Neves. "That's what they have in common with the Chinese government."
ALERT: Check out our new Campus Cancel Culture Database!
IMAGE: Turning Point Emerson
Like The College Fix on Facebook / Follow us on Twitter