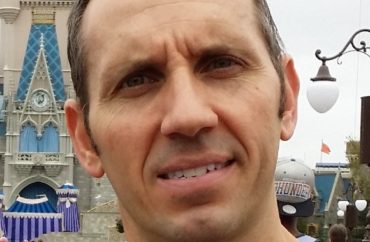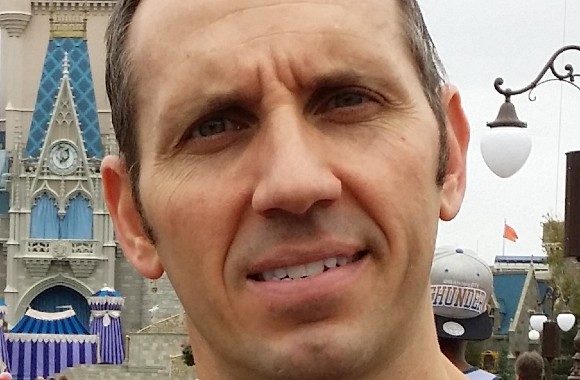 He 'dismiss[ed] student perspectives that are different from his own'
Students and a state lawmaker are calling on the University of Central Florida to investigate an adjunct professor for referring to the novel coronavirus as the "Wuhan Corona virus."
Some accused Alvin Quackenbush of "racist" grading practices, "biased" assignments and sharing his political views in class, but their criticisms also focus on disagreement with the grades the white professor has given.
Rep. Anna Eskamani, an alumna of the university, told The College Fix it was "concerning to see a professor dismiss student perspectives that are different from his own and use terms like 'Wuhan virus'."
This is especially the case because "he is also grading these same students," she wrote in an email.
Quackenbush (above) teaches in UCF's School of Politics, Security, and International Affairs. He also chairs the political science department at Valencia College, which describes itself as "the best community college in America."
UCF media relations has not responded to emails and a voicemail from The Fix concerning whether a formal investigation is underway based on the allegations.
Carol Traynor, senior director of public relations at Valencia, told The Fix the college "has no record of any investigation into, or complaints from students about, Professor Quackenbush expressing race-based comments or sentiments in his teaching."
Both schools responded to the student who apparently started the Twitter campaign against Quackenbush, however.
UCF asked the student to "make a formal report through UCF's IntegrityLine," and Valencia told her to "review the reporting options" on its student dispute resolution page and call its Equity and Access Office.
Quackenbush declined to answer Fix questions: "I have been advised that the University of Central Florida has a formal process for handling student complaints. Thus, I should not comment at this time."
Asked if he could just confirm that UCF was looking into the allegations, Quackenbush answered: "I would ask that you direct your question to the University."
MORE: Syracuse professor under investigation for using term 'Wuhan Flu'
Hi, Ray. We ask that you please make a formal report through UCF's IntergrityLine by calling 855-877-6049 or visiting https://t.co/XNUwopDDOx

— UCF 😷 (@UCF) December 12, 2020
Students reported him several times but 'never saw any repercussions'
Quackenbush is not the first UCF professor this year to face student calls for termination in response to alleged racism and classroom discrimination.
The university launched an investigation into a tenured professor, Charles Negy, in the wake of George Floyd's death in Minneapolis, which triggered this summer's race riots across the country. Negy had tweeted about "black privilege," which provoked a student protest in front of his home.
While the timing of the social media offensive against Quackenbush is unclear, independent student newspaper Knight News reported that he challenged student criticisms of Gov. Ron DeSantis's COVID-19 response a week earlier.
In an email to his State and Local Government class Dec. 5, Quackenbush said students were noting that Florida has "the third most cases of COVID" and "19K dead." But they "MUST look at population when looking at deaths" for the proper context, he added: "You cannot compare states with different populations."
The Student Body Senate took up alleged xenophobia stemming from COVID-19 in a resolution introduced in July and passed in September. It "call[ed] on campus-wide leaders to address and denounce anti-Asian sentiment in any form."
While it claimed that "Asian/Pacific Islander American communities are suffering acts of discrimination, hate crimes, and microaggressions due to fears of COVID-19," the resolution did not point to any such instances in the UCF community.
Instead, it cited 1,800 reports of "anti-Asian harassment or violence" related to the pandemic to a coalition of Asian-American groups. Another group that collects such reports told NBC in April that about three in five reports involved non-Chinese individuals.
The resolution makes clear, however, that descriptions of the virus that refer to its Chinese origin "have perpetuated anti-Asian stigma." It specifically notes "China virus," "Wuhan virus" and "Kung-Flu."
Quackenbush used the term "Wuhan Corona Virus" in an April 16 class email that emphasizes the importance of investigating China's role in the emergence of the novel coronavirus, including the "[s]afety issues" at its virus research lab in Wuhan. Quackenbush provided media sources including an op-ed from The Washington Post and reports from CNN and Fox News.
— ray (@rayanneanid) December 13, 2020
MORE: Taiwanese professor forced to apologize for using term 'Wuhan virus'
While the email repeatedly misspells "Chinese" as "Chinses" and makes other stylistic errors, students took issue with Quackenbush's multiple uses of "Wuhan Corona virus" eight months after the incident.
Some UCF students are discouraging their peers from taking classes with Quackenbush, citing his email from the spring and other allegations from his classes.
One of the most outspoken is political science major Rayanne Anid, an activist with the anti-gun group March for Our Lives. She appears to have sparked the campaign against Quackenbush with a Dec. 11 tweet thread about her distaste for the professor and his views.
"Out of the last year and a half that i've known of this guy he's only gotten worse," Anid said, claiming Quackenbush "is a racist who will deduct points from any students who express any views apart from his own" and that he puts "biased questions in his exams."
She implied the professor's critics have been monitoring him for some time: "We have recording [sic] of his classes. We have first hand experience." Anid invited Twitter users to "share their experience with him" privately with her.
Knight News reported the next day it "has not been able to confirm that Quackenbush deducts points for individuals expressing different views," but noted it hadn't been able to reach him.
Anid tweeted Dec. 12 that many people told her "they had already reported him to UCF but never saw any repercussions." She filed a formal complaint against Quackenbush the same day, and posted the evidence she said she included in the complaint, including the "Wuhan Corona virus" email. (Anid posted a statement from an anonymous student claiming the professor "constantly deducts points for me.")
Allegedly gave extra credit to everyone but student who kept missing class
Rep. Eskamani, who represents a central Florida district, responded to Anid's original tweet thread the same day. She reaffirmed the student's concern and said she would make sure the university administration "sees this too," tagging UCF's Twitter account.
The university responded to Anid's tweet thread 12 minutes after Eskamani tweeted at UCF.
The lawmaker told The Fix the issue was important to her "because academic integrity is on the line," referring to Quackenbush's alleged classroom practices.
Asked whether pressuring UCF to investigate Quackenbush could be a threat to academic freedom, Eskamani (left) said: "Absolutely, which is why academic institutions conduct investigations before drawing conclusions."
But she makes a "big distinction" between expressing "those opinions in one's spare time versus within a classroom," referring to allegations that Quackenbush didn't reserve class time for students to challenge his opinions. "I appreciate UCF for taking student concerns seriously."
Some of Anid's peers joined in, citing similar experiences in Quackenbush classes.
Fellow political science major Christopher Zoeller, Florida organizing director for the March for Our Lives and apparently a volunteer for Eskamani's campaign, went a step further than Anid after seeing her tweet.
The white student called for UCF to "remove this racist professor and do right by your own students," claiming that Quackenbush "continually questions the experiences and discrimination that students in his classes went though." (He tagged Eskamani in the thread.)
UCF's chapter of the Young Democratic Socialists of America posted a thread of further accusations against the professor, calling for his firing from both UCF and Valencia.
"Professor Alvin Quackenbush has espoused his right wing and racist views for years, even going as far as to poorly grade students who don't agree with his ideology," it said. The account only mentioned one supposed incident of biased grading, however.
YSDA at UCF shared a lengthy statement from an anonymous student, who claimed Quackenbush started issuing "extra credit" to students who showed up to class on days that this student missed. (Alumnus Donald Hasenbank echoed some allegations from the anonymous statement.)
Without elaborating, the student group also claimed the professor "intentionally and repeatedly misgendered a trans[gender] student in class on at least once occasion."
Knight News interviewed a student who enjoyed Quackenbush's class. Daisy Guel said she didn't witness "any racist behavior and that's coming from a person who is not white."
She criticized classmates who want to "turn this into something it's not because they didn't get the grade they wanted." Guel said the professor was doing his job – "to challenge people's beliefs and grow our minds" – and should not be fired for it.
MORE: Winthrop University censors dean who used term 'Wuhan virus'
IMAGES: Valencia College, Rep. Anna V. Eskamani/Twitter
Like The College Fix on Facebook / Follow us on Twitter