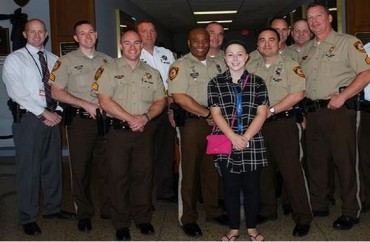 Lexi Kozhevsky wasn't decked out in riot gear. She didn't have a shield or gun. Instead, she was simply wearing a "Fall Out Boy" t-shirt, backwards hat, and pair of hipster glasses.
Yet, this didn't stop the 19-year-old college student from standing in front of the police line in Ferguson two weeks ago as a small group of protesters hurled rocks and frozen water bottles at the law enforcement officials the night after the one year anniversary of the death of Michael Brown.
"I would rather get hit by something than let it hit them," she told a St. Louis Post-Dispatch photographer on Aug. 10.
For nearly a half hour that night, Kozhevsky, a nursing major at nearby Saint Louis University, stood protecting the police officers. Her action came just less than 24 hours after a police-involved shooting broke out the previous night in Ferguson.
Lexi, 19, stands to protect cops, "I would rather get hit by something than let it hit them." #Ferguson Pic-@PDPJ pic.twitter.com/gF4lLSqAjx

— Lynden Steele (@manofsteele) August 11, 2015
For her courage, the St. Louis County Police formally thanked Kozhevsky. "Last week, Lexi stood in front of officers as people threw rocks & bottles. Today, we got to tell her, 'thank you,' " the department tweeted out during the Aug. 20 ceremony, along with pictures of Kozhevsky with officers as well as the county police chief.
Last week, Lexi stood in front of officers as people threw rocks & bottles. Today, we got to tell her, "thank you." pic.twitter.com/i2DLOVQ0UD — St. Louis County PD (@stlcountypd) August 20, 2015
While Kozhevsky's action took courage, it wasn't without fear.
"It was scary. People were looking at me and making gestures. It was unnerving, to say the least. But sometimes you just have to stand your ground," she told The Blaze.
In an interview with Fox 2 News, Kozhevsky described the situation as intimidating, with a group of people "staring me down with this hatred that's just radiating off them."
"It was probably directed at the police behind me, but still, just standing there I could feel it," she said.
But standing as a barrier between these protesters and the police, Kozhevsky was able to help keep peace between the two groups.
In a video she took that night as she stood before the police, Kozhevsky said she understands discrimination is an important issue, but that the police need to be supported and respected regardless.
"Look guys, discrimination is a thing and I get it. But, we need to stay with the people who protect us and that's what I am doing. I want to protect my police," she said in the video.
The video and pictures of Kozhevsky immediately went viral, prompting articles from many news outlets but also drawing much criticism on social media from #BlackLivesMatter activists.
One well-known Ferguson activist asked in a tweet whether Kozhevsky was a member of "the #SLU (Saint Louis University) Young Republicans yet."
One SLU student tweeted disgust at the media attention Kozhevsky drew, saying "SLU SHOULD NOT BE REPRESENTED BY LEXI KOZHEVSKY. WE ARE MORE THAN HER."
Kozhevsky has also said she's had to delete her Facebook profile after "friends" harassed her. But she has made a habit of standing up for police officers.
Last fall, Kozhevsky and a friend protested the protest against police on her college campus. That protest was a six-night demonstration at Saint Louis University that served as extension of the protests in Ferguson over the death of Michael Brown.
Like The College Fix on Facebook / Follow us on Twitter
IMAGES: Twitter