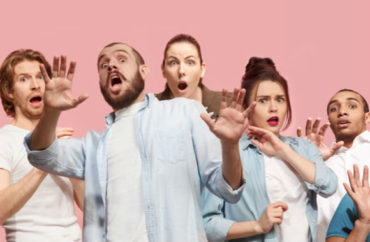 Yet vast majority support freedom of association for student groups
Two months before the white nationalist rally in Charlottesville, a survey commissioned by the Foundation for Individual Rights in Education asked college students if it was "important to be part of a campus community where they are not exposed to intolerant and offensive ideas."
It found that 58 percent agreed or strongly agreed with the statement.
Bad news for supporters of robust free exchange of ideas: That number has now hit 64 percent, and the violence of Charlottesville played a discernible role.
The new survey of student speech attitudes commissioned by FIRE, also conducted by YouGov, finds that most are willing to junk the rights of their fellow students if they are "hurtful or offensive to certain students."
As you might expect, students expressed contradictory views in differently worded questions. Seven in 10 believe in the exclusion of their peers "from extracurricular activities if they publicly express intolerant, hurtful, or offensive viewpoints," yet 96 percent want their civil rights or liberties protected, according to FIRE's blog post on the survey.
When asked which civil right or liberty is most important, however, a plurality (30 percent) say freedom of speech.
The muddle is just as obvious when asked about the rights of student groups. Three in four believe registered student groups should be allowed to "deny leadership positions in the student group to students who don't agree with the mission of the group," but half of students would deny recognition altogether to groups whose missions "certain students find intolerant, hurtful, or offensive."
Around three in five believe that "promoting an inclusive environment" is more important than protecting their own free speech, and that colleges should be able to "restrict student expression of political views that are hurtful or offensive to certain students."
About a third of students said the events of Charlottesville "changed how they think about speech and expression on campus," though not as predictably as you might think. While a slight majority still believes white nationalists "should be allowed to protest peacefully," seven in 10 believe the same for counter-protests against them.
Partisan differences are evident in a few ways. While Democratic and Republican students express similar support for freedom of speech as the most important civil right, twice as many Democrats as Republicans believe that about "equal treatment under the law." Similar numbers of each group believe the right to vote (Democrats) and freedom of religion (Republicans) are most important.
The partisan gulf is not particularly wide on student support for colleges suppressing hurtful or offensive views – just 12 percentage points higher among Democrats, with a majority of Republicans in favor.
A majority of both partisan affiliations also agree that "the climate on their campus makes it difficult for students to have conversations about important issues such as race, politics, and gender" – 65 percent of Republicans and 51 percent of Democrats.
YouGov surveyed 2,225 two- and four-year undergraduates from the polling firm's online opt-in research panel, which consists of 1.8 million people, between Sept. 24 and Oct. 11. The survey had a margin of error of 2.3 percentage points at the 95 percent confidence level.
Read the full survey and FIRE blog post.
MORE: Mainstream surveys show students OK with violence against speakers
IMAGE: Master1305/Shutterstock
Like The College Fix on Facebook / Follow us on Twitter