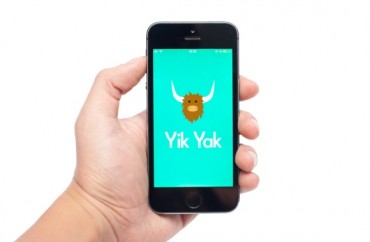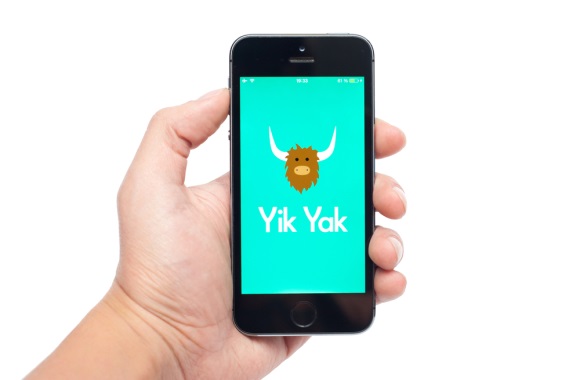 If you want to make an app that college students love, that serves as a pressure release valve and accountability mechanism for suffocatingly PC campuses, don't force them to give their names.
That's the sobering lesson for Yik Yak, which drew a reputation as a cesspool of racist, sexist and other politically incorrect statements and a frequent target for speech-suppressing administrators and unhinged activists.
There was never much reason for Yik Yak to give in to demands that it censor and rat out its users for offensive but nonthreatening speech, yet that's pretty much what it did when it revoked the anonymity that users relied on to speak their minds.
Inside Higher Ed reports that Yik Yak has "fallen out of the top several hundred most popular" smartphone apps and it has fired most of its employees – a stunning fall for a company that was once valued between $300-400 million:
Last year, Yik Yak introduced user names — first optional, later mandatory — and began highlighting nearby users. The changes were controversial among users, and by that November, the company reversed its course. But more recent changes to the app, such as phone number verification, have continued to trend away from anonymity.

MORE: How Yik Yak helped nix mandatory pro-environmentalism class

"When Yik Yak moved away from anonymity, they took away the most important feature of the app," said Eric Stoller, a higher education consultant (and Inside Higher Ed blogger) who frequently writes about social media. "Why use Yik Yak when you can use other platforms that have user profiles? Yik Yak was always about user location and anonymity."
A spokesman for Colgate University, where Yik Yak posts convinced the school to mandate campuswide diversity training, said the app "died on our campus" when Yik Yak started requiring phone-number verification.
Some schools blocked Yik Yak from their campus networks – an easily defeated measure (use your data signal!) that students were too lazy to defeat:
After several students at the College of Idaho reported that they felt threatened by posts on Yik Yak, the student government there in 2015 passed a resolution essentially stating that anonymous posts violated the college's Honor Code, said Jordan Rodriguez, director of marketing and communications.

MORE: Ms. magazine says Title IX requires school to police Yik Yak

The college's administration took the resolution as an endorsement to block Yik Yak on campus. …

While students could still access Yik Yak by turning off Wi-Fi and using mobile data on their devices, the inconvenience of doing so was enough to make many users to stop using the app, according to a student enrolled at the college who was there when the resolution passed.
Congratulations, Yik Yak. Your cowardly response to baseless legal demands by colleges and activists has given students one less option to safely dissent from campus orthodoxy and hold their leaders accountable. You deserve your fate.
MORE: Campuses 'symbolically' ban Yik Yak as battle over app rages
MORE: Feminists will push legislation to regulate Yik Yak
MORE: 'Illegitimate' to punish students for Yik Yak posts
Like The College Fix on Facebook / Follow us on Twitter
IMAGE: Shutterstock