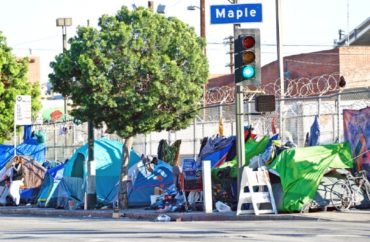 Columbia University students upset over course focused on helping Harlem
College students have a penchant for getting upset when people, sometimes professors, students or corporations, try to improve blighted areas.
Columbia University students protested recently after a Twitter user named Achmat X posted a thread that claimed a course at the college would "redesign" Harlem. A 2021 article described Harlem as having "untenable levels" of "[d]rug use and street filth."
The course is in the School of International and Public Affairs.
"This course, which the class syllabus labeled as 'practical,' asks students to collaborate with Harlem's 125th Street Business Improvement District to investigate the challenges faced by the community and propose 'smart city innovations' as solutions," the Columbia Spectator reported. "The course, taught by SIPA lecturer Erika Whillas, includes lectures, guest speakers, workshops, and presentations to confront Harlem's local issues."
None of the students tasked with "designing a better Harlem" are from Harlem and almost all are non Black international students!

— Achmat X (@AchmatX) September 16, 2022

Achmat and the protesters are upset that students were reportedly given photos of the area, which included images of residents using drugs, and told they were to make policy proposals to make Harlem better.
This is not the first time students have become upset at efforts to make poor or crime-ridden areas better.
For example, students were able to get Loyola University in Baltimore to cancel a group of business students who suggested pairing black business leaders with fatherless young black adults to help them with mentoring and job skills. The students, who were white, made the proposal as part of a business school competition.
But leftist students who, based on their comments, didn't watch the video at all, called it racist.
The business dean threw her students under the bus and thanked the aggrieved activists for "calling us into deeper conversations about institutionalized racism on campus."
If encouraging economic opportunity gets leftists riled up, so does fighting crime.
That's why after all Harvard University caved to a leftist, police abolitionist grad student who riled up opposition to a course on policing tactics used in Springfield, Massachusetts.
MORE: It is 'violence' to clean up homeless encampment, Yale students say
The low-income, mostly racial minority residents of the city's North End appreciated the university's help with cleaning up the city and encouraging economic activity. But activists quickly accused an Afghanistan War veteran and professor, Kit Parker, of being insensitive to the community even though he and his students were working closely with the actual community.
The tactics, known as Counter-Criminal Continuum or C3, "has transformed the community from a neighborhood where encounters between citizens and police were trepidatious, to one where everyone feels more comfortable," self-described "left of center" business owner Ben Quick told The College Fix in February 2021.
Professor Parker struck the tone anyone seeking to do good but faced with opposition from uninformed leftists should take.
"My dedication to this effort is emboldened," Parker said at the time. "I encourage those that [signed a petition against the course] [to] accept that they might have been wrong and join our team to help inform the voice of this community as they seek economic development and continued growth and well being."
MORE: Campus cops, student government clash over defund the police
IMAGE: Philip Pilosian/Shutterstock.com
Like The College Fix on Facebook / Follow us on Twitter