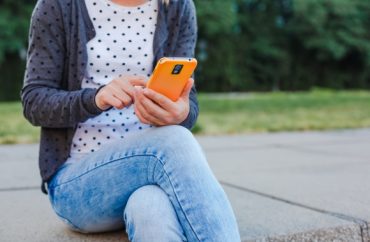 'It was easier than I thought to limit my usage'
Limiting the amount of time spent daily on social media can significantly decrease feelings of depression and loneliness, according to a recent study by researchers at the University of Pennsylvania.
Users should limit their social media to "approximately 30 minutes per day" if they want to experience "significant improvements in well-being," according to the research team, led by Melissa Hunt, associate director of clinical training in the psychology program.
The drop in depression and loneliness was found after three weeks of adjusted use.
Most of the studies on the relation between mental health and social media have been "correlational," while others have only focused on Facebook, according to the paper.
By also tracking Instagram and Snapchat, this study is the "first ecologically valid, experimental investigation that examines multiple social media platforms and tracks actual usage objectively," it says. (The three platforms were chosen because they are most commonly used among the study group of 18-24 year-olds.)
"No More FOMO: Limiting Social Media Decreases Loneliness and Depression" is available online but is scheduled to be published in the next issue of the Journal of Social and Clinical Psychology. The other researchers are recent graduates Rachel Marx and Courtney Lipson and Penn senior Jordyn Young, according to Psych Central.
Just monitoring how much they use social media has positive effects
Participants in the study noted that even if they didn't decrease their social media use, there was a positive result from the act of self-monitoring how the three platforms were affecting their psyche.
The four-week study recruited 143 undergraduate students in psychology courses at Penn, roughly divided between fall and spring semesters, and they received course credit for taking part.
The study was limited to participants who used iPhones and had all three social networking apps on it. Students were randomly assigned to a control group, where they were instructed to use social media normally, or an intervention group, where they limited their usage of each platform to 10 minutes daily.
The researchers allowed limited social-media use because it was "far more realistic than asking people to abstain" altogether, which might prevent them from learning about "meetings times, events, etc." that are communicated through social media.
To start, all participants were given a baseline survey to determine their well-being based on seven factors. Citing "the lack of experimental research on our topic," the researchers "decided to use a wide variety of well-being constructs that have been found to correlate with social media usage."
The tested behaviors included social support, fear of missing out, loneliness, anxiety, depression, self-esteem, and autonomy/self-acceptance.
Results from the study show that high scores in tested behaviors had no predictive correlation with increased social media use, except for the fear of missing out, which had a 20 percent correlation. The participants in the spring semester were asked to estimate their typical social media use, and this actually led to negative correlations being found between baseline behaviors and use.
MORE: University says to use yellow emojis 'when addressing diverse audience'
The takeaway was that "people were not very good at estimating their actual use," and that this bias can "explain at least some of the correlational findings," according to the paper. The researchers stressed that "this highlights the importance of future research not relying on retrospective self-report or estimated use data."
After the full four weeks of testing, loneliness and depression were affected the most among both the control and intervention groups. Feelings of loneliness were most clearly decreased, with the experimental group scoring appreciably lower than the control group after the four-week period.
Depression saw an even more dramatic decrease, especially in those who scored high on their initial tests. On the test, the depression results could range from 0 to 25, with anyone scoring 14 and above classified as "high in baseline depression."
Those who scored low (under 14) in baseline depression in the experimental group found a slight "but not clinically significant decline of a single point" in their results. Those that were classified as high saw a shift to a mean of 14.5 from a mean of 23 by the end of the trial. The control group found a much less impressive single-point drop.
While limiting social media use had the greatest impact on depression and loneliness, both groups found "slight but statistically significant" decreases in fear of missing out and anxiety, merely from participating in the study. "We posit that this was a result of the self-monitoring inherent in the study," the paper says.
The study anonymously quotes a student in the experimental group: "I am much more conscious of my usage now." Another said: "It was easier than I thought to limit my usage. Afterwards I pretty much stopped using Snapchat because I realized it wasn't something I missed."
'Most impactful for those who started with higher levels of depression'
The discussion notes that not only did the 10-minute daily limit per mobile platform have a "significant impact on well-being," but that limit was "most impactful for those who started the study with higher levels of depression." They ended the study in the "mid range" for depression.
The study didn't find any improvement in "social support, self-esteem, or psychological well-being." While the researchers speculated that these measures may remain "truly unaffected by social media," they raised the possibility that this "intervention was not long enough to produce any changes in these measures."
They said replications of this study should include more social media platforms, including Twitter, Pinterest and Tumblr, adding that "dating apps in particular might be a fruitful avenue of investigation."
MORE: New social media policy bans posts that 'inflict emotional distress'
They also suggest that researchers look further into "moderators associated with social media," such as "number of Facebook friends, Instagram followers, length of Snapchat streaks and so on."
This research could be especially helpful for Instagram users, given a 2017 survey from the United Kingdom's government-charted Royal Society for Public Health. It ranked Instagram as the worst social media platform for the health of users ages 14 to 24, citing platform-specific features and practices.
The length of intervention and the "length and nature of the limits imposed on usage" may be the most important modification for future studies, the paper says. The researchers speculate that there may be "an optimal level of use (similar to a dose response curve) that could be determined."
Apps that try to "control or limit the use of other apps" are too easy to "circumvent" for this young population, the researchers say, recommending a strategy of using apps that "increase self-monitoring and awareness of use."
MORE: 'Pre-traumatic stress disorder' comes from 'climate depression'
IMAGE: Shutterstock
Like The College Fix on Facebook / Follow us on Twitter