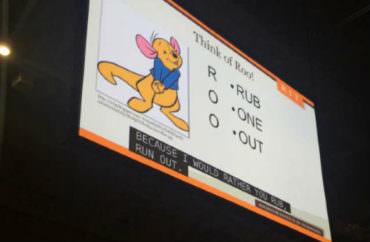 The Rochester Institute of Technology wanted to grab students' attention when it comes to drinking and sex at freshmen orientation last week.
So campus officials used a Winnie the Pooh character to tell students to masturbate so they won't be tempted to rape each other.
The image of Roo from a freshmen presentation was posted on the school's Reddit page about 8:30 p.m. Eastern on Wednesday. It told students to "Think of Roo!" and "RUB ONE OUT," with an apparently miswritten caption that reads "because I would rather you rub run out."
A Twitter user also posted an image with a different caption the next day: "Self-gratification can prevent sexual assault."
Holy fuck, apparently my college revamped their freshman orientation to teach about how to not rape. I just, holy fuck pic.twitter.com/kp7iDnvLnD

— Peachum (@BunLordPeachum) August 24, 2017
The original Reddit poster said the image came from a "consent presentation," and another poster named it specifically as the mandatory orientation presentation "Alcohol and Chill":
Perhaps the presenters were trying too hard, but they did do a great job of making a fun yet serious presentation about something very important.
Another said: "We were encouraged to rub one out if our partner or a party didn't wish to engage in intercourse (and related things). It was meant to be comedic more than anything and I don't think it was particularly cringe [sic]."
The context of the slide was that if a likely sex partner had provided several consecutive "go ahead" signals for sex, "and then suddenly tells you 'No,'" the sexually frustrated partner should "go back to your room and Rub One Out," according to a self-identified freshman:
A picture of roo was shown without the acronym explained at all. There was a pause – and then a collective moan and groan from the audience as the implication slowly washed over everyone, including those teaching it. It was fucking hilarious. Then the acronym was revealed one at a time:

RUB.
ONE.
OUT.

Everyone lost it.
The poster said the presentation also featured vicarious toe-sucking.
Yet another said "several interpreters awkwardly signed RUB ONE OUT" for hard-of-hearing students.
#Newyork #Nyc #Reddit #Livebroadcasting RIT Uses "Roo" Character To Urge Freshman To "Rub One Out" Instead of Rape… https://t.co/akE44XN3p4

— Ching Geob (@PhilcamChing) August 24, 2017
Rochester radio station 95.1 also posted an sex-ed flyer from RIT's Center for Women & Gender for April's sexual-assault awareness month. It shows a cartoon tiger twerking. It reads: "Don't have sex with a drunk twerking tiger. Only a sober tiger can give consent!" (The school mascot is a tiger.)
In a statement that does not appear to be linked from any other university page, and was not shared on its social-media channels, Rochester Institute of Technology did not describe the Roo slide except to say it has "sparked controversy."
It is simply titled "A response from the Senior Vice President for Student Affairs," Sandra Johnson, and said the Roo slide was part of a 77-slide presentation.
Johnson said the sexual-misconduct program "Alcohol and Chill" was developed by Student Counseling and Psychological Services, the Center for Student Conduct and Conflict Mediation, Center for Women and Gender and its Title IX coordinator's office:
The format of the program was more of a "straight talk" approach, weaving in humor along with important facts and identifying resources for students. The overarching goal was to increase awareness and promote discussion about the ways we together can prevent instances of sexual misconduct on our campus.
The Roo slide was "taken out of context," she continued:
In my opinion, this serves to underscore the complexity involved in addressing this issue. In our experience, telling students what "not to do" without talking about specific situations that are difficult to navigate is irresponsible; we addressed the subject from a place and context that students could understand. …

While some may think the program on Wednesday evening missed the mark, we've had positive feedback from many of the students, both new and returning, in attendance. These are difficult conversations that can be awkward and uncomfortable, and we apologize if we unintentionally offended anyone.
Johnson's statement does not explain how a baby kangaroo from a children's book is an effective vehicle for teaching college students about sexual misconduct.
The controversy distracted from the orientation-week message pushed by RIT's new president, David Munson. He told students the same day as the "Alcohol and Chill" presentation that freshmen should "be open to learning and growing" and "learn how to discuss sensitive topics honestly and respectfully."
The College Fix has asked the administration why its statement does not appear to have been communicated outside of a single webpage that is not linked elsewhere, why it fails to describe the slide's content, and which persons and offices developed or oversaw the Roo slide.
Read the Reddit page and Johnson's statement.
h/t Campus Reform
Like The College Fix on Facebook / Follow us on Twitter
IMAGE: Reddit