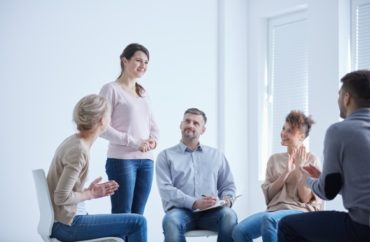 In recent years, many colleges and universities have created or welcomed in drug-addiction recovery programs that aim to help and support students working to stay clean and sober.
The growth of such programs on campuses nationwide has been nothing less than exponential in the last five years, say experts in the field, citing everything from a growing acceptance of addiction treatment to the opioid epidemic.
At UCLA, there's a "recovery lounge" where students who have sworn off drugs and alcohol can hang out with like-minded peers, take a nap, or attend a recovery meeting.
At the University of North Texas this fall a mix of meetings for students in recovery included ones focused on AA, creative arts, holistic wellness, and relationship and boundary issues.
At Eastern Michigan University on Nov. 15, a panel of students shared how they balance recovery and their ongoing education.
At the University of Colorado Boulder, sober on-campus housing is offered for students as part of its Collegiate Recovery Center.
Robert Shearon, program manager of the collegiate recovery program at CU Boulder, said it's important to support students during their recovery from addition and give them the tools they need to succeed.
"We believe that connection is the opposite of addiction and by having all of these resources available to students, they are able to overcome certain struggles that come with recovery," he told The College Fix via email.
"Many students that go through our program are able to dramatically raise their grades and go on to graduate," he said.
Other popular events at universities nationwide include sober tailgating parties, weekly support groups, movie nights, walks, yoga and more.
The Association for Recovery in Higher Education reports that approximately 95 percent of the students who participate in recovery programs maintain their sobriety.
Within the last seven years, the amount of collegiate recovery programs has risen exponentially, according to the Association for Addiction Professionals.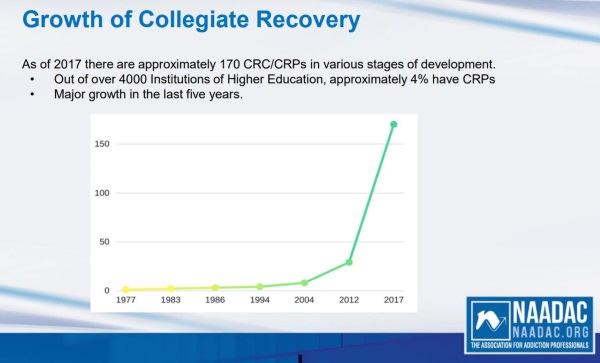 Association for Recovery in Higher Education lists 131 programs at campuses nationwide.
According to a November 2019 article on Inside Higher Ed, addiction support is going "mainstream" on college campuses today.
"While public health officials and policy makers have been focused on stemming the nation's deadly opioid epidemic, higher ed institutions have directed attention to tackling alcoholism and drug addiction among students," Inside Higher Ed reports. "College leaders and student affairs administrators are increasingly embracing on-campus recovery programs and centers among their expanding initiatives to meet the social and emotional needs of students and help them overcome barriers that keep them from earning degrees."
While some campuses have hosted such programs for years, even decades, many others are catching the momentum now, IHE reports.
Another group that's growing is The Haven at College, which partners with colleges and universities to offer mentoring and monitoring programs, outpatient centers and recovery homes. The Chronicle of Higher Education reports the company is in "expansion mode."
"New programs opening this fall at Tufts University and the University of Maryland-Baltimore County are the eighth and ninth Haven facilities, with another, at California Polytechnic State University at San Luis Obispo, in the works for 2020," the Chronicle reports, adding "Haven has grown alongside a boom in such programs."
Anne Thompson Heller, staff psychotherapist at the University of Connecticut's Student Health and Wellness, told the Chronicle there's been "exponential growth in the last decade" of on-campus recovery options, adding that contributing factors include word of mouth, the opioid epidemic, and government reports emphasizing substance abuse as a disease.
Shearon told The Fix that, at CU Boulder as well as on other campuses, it's okay to be in recovery nowadays.
"Individuals have worked on creating a culture that allows for the acceptance of conversation surrounding substance use and recovery," he said. "The universities themselves are also very helpful when it comes to recovery as they provide their students with many resources and don't turn them away simply because they struggle with addiction."
MORE: U.S. on verge of 'digital experience addiction epidemic'
IMAGE: Photograpee/Shutterstock
Like The College Fix on Facebook / Follow us on Twitter