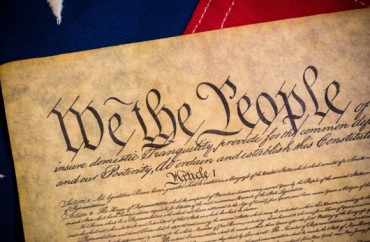 Several of its sibling colleges still heavily regulate student expression in public
This spring, Bunker Hill Community College in Massachusetts ordered a student group to stop handing out copies of the Constitution outdoors on campus. The order was backed by police force, and the students were reported for violating the conduct code.
You see, the Young Americans for Liberty chapter hadn't been officially recognized. Then the club learned that it had been given misinformation by the school: There were no written policies and procedures for obtaining recognition. It was all subject to the whims of the Student Activities Office and the Student Government Association.
After a joint warning from two free speech groups and a summer's work with their lawyers, Bunker Hill finally has speech policies that pass constitutional muster – and the Massachusetts Community College System is working on a broader review.
The Alliance Defending Freedom announced the changes Monday, which include an end to the "blanket ban on student rights to distribute materials on campus or to engage in spontaneous speech absent pre-approval," as the YAL chapter did after waiting several weeks for instructions on getting recognition.
The alliance and Foundation for Individual Rights in Education also started a broader review of policies among other colleges in the system "that would similarly prevent peaceful demonstration and distribution of literature on campus," FIRE said Monday.
In a joint letter to the system's general counsel last week, made available Monday, the alliance and FIRE commended Bunker Hill leadership for changing policies. They included provisions that formerly punished students for "meeting outside this policy" and required their clubs to "support the academic curriculum and/or mission" of the college.
But the groups are still concerned by the lack of publicly available "objective procedures" for club recognition that Bunker Hill is allegedly developing.
Students are still required to visit the Student Activities Office to find out how to become officially recognized, according to the letter. FIRE and the alliance said the college should post these procedures on its website, in the interest of "transparency in institutional decision-making."
Want to do a spontaneous event? Go here at noon and be 'quiet'
The groups flagged problematic policies at six other colleges in the system: requiring students to get a pre-approved location to have an "assembly" and then regulating their behavior in that area; demanding four business days' notice before holding an event; holding event sponsors responsible "for the actions of any participant"; and requiring a group to list all "pertinent" speakers for an event, with no definition for "pertinent."
The most regulated procedure on the list may be that of Northern Essex Community College:
[Its] Assembly Policy permits only "small informal student gatherings" to take place without "formal scheduling" and even these gatherings must take place in a small number of "appropriate places," including only one outdoor space, between the hours of 12 and 1 p.m., Monday through Friday. Students at informal gatherings are further instructed to keep conversation and music at a level that does not disturb groups nearby and to maintain "sufficient quiet" during class hours.
All the flagged policies "effectively" ban spontaneous or anonymous expression and limit student activity to small assigned areas, while some regulate protected speech by preventing students from using "lewd" speech or requiring them to be "respectful," the groups told the system:
All of these content-based restrictions are hopelessly vague and overbroad, sweeping
up a great deal of protected speech and inescapably inviting subjective, viewpoint-based assessments of a student's message.
The college system responded the next day to the warnings about other campuses, agreeing to review those policies, according to the alliance and FIRE.
Read the alliance and FIRE statements and their letter to the college system.
MORE: Public college punishes student group for passing out Constitutions
IMAGE: Shutterstock
Like The College Fix on Facebook / Follow us on Twitter