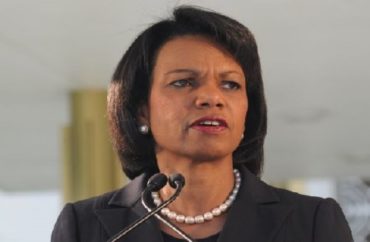 Students at the Georgia Institute of Technology have launched a protest against the upcoming appearance of former U.S. Secretary of State Condoleezza Rice as the keynote speaker at the school's upcoming December commencement ceremony.
Her pending visit has prompted a group of progressive students to pepper the campus with anti-Rice fliers and launch a campaign against the first African American woman to hold the post of Secretary of State.
A petition headlined "Say No to Condoleezza Rice" is now making the rounds. It was created by Georgia Tech's Young Democratic Socialists chapter and decries Rice's legacy as one of "deceit, torture, imperialism, illegal warfare, and other appalling human rights violations."
Commencement is a place for students to rejoice with one another as they look forward to bettering the world. When Georgia Tech selects a commencement speaker, they are proposing a role model for students. Say NO to Condi Rice. Sign the petition: https://t.co/agAVTsLcrv pic.twitter.com/fhzP3xxhz0

— YDSA Georgia Tech (@YDSAGT) November 13, 2018
"Georgia Tech now endangers its own reputation by condoning Rice's lies and support of torture," the petition adds.
Young Democratic Socialist members also recently peppered the campus with fliers decrying Rice for the "illegal invasion of Iraq, resulting in over 200,000 civilian deaths and 4,000 dead U.S. troops."
Campus spokeswoman Laura Diamond declined to comment on the anti-Rice efforts at the school, and would only confirm to The College Fix that "Former U.S. Secretary of State Condoleezza Rice will be the keynote speaker at Georgia Tech's undergraduate ceremony on Dec. 15." Diamond then directed The Fix to the university's official statement announcing Rice's visit.
Meanwhile, the College Democrats at Georgia Tech are taking a neutral stance on the campus controversy, telling The College Fix the group does "not endorse or oppose YDSA's petition."
What's more, the College Democrats pointed out the selection of grad speakers at the school has historically offered people on both the left and the right, and added they support free speech.
"The School of International Affairs has invited members of Democratic Presidents' cabinets in the past such as Deputy Secretary Sherwood-Randall. Such guests engage the educational quality at our institution and allow us to gain perspective. In short, we support everyone's right to free speech and have not taken a position on the YDSA petition."
MORE: Academics demand service award be taken away from Condi Rice
MORE: Students Tell Police to Arrest 'Dangerous' Condi Rice During Visit
IMAGE: NewDehli / Flickr
Like The College Fix on Facebook / Follow us on Twitter