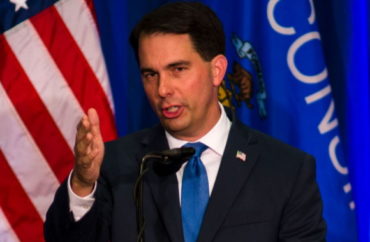 Former governor of Wisconsin, now president of Young America's Foundation, says universities must be held accountable for violating free speech rights
Tying funding to free speech protections on college campuses is one of the ways in which campus free speech caucuses recently formed by Republicans in both the House and Senate may be able to enshrine First Amendment protections in higher education, according to Scott Walker.
Walker, who was formerly governor of Wisconsin and today serves as president of Young America's Foundation, is working with Republican lawmakers involved in the free speech caucuses to help develop legislation to support students' First Amendment rights.
"It has to be more than just saying 'Don't do that,'" Walker told The College Fix in a telephone interview Monday. "There has to be a consequence for [abridging free speech]. If free speech is truly revered by anyone, left or right, there has to be some enforcement."
The House Campus Free Speech Caucus formed in June 2021 and the Senate version launched in October. They're led by GOP leaders such as Senators Marsha Blackburn and Tom Cotton in the senate and Representatives Jim Jordan and Kat Cammack in the house.
Walker said tying federal funding to certain free speech benchmarks is a key strategy eyed by the caucuses in order to get the attention of campus administrators.
"If administrators knew that if they don't adequately protect free speech that some of the federal funding is in jeopardy, those are the sorts of things that I think would ultimately cause colleges and universities to take action to ensure that free speech rights are truly protected," he said.
"We're hoping this is going to be one of many tools we are going to be invoking in order to try and ensure that every conservative voice on campus is able to be heard."
Walker said that in his position as president of YAF, he sees firsthand how colleges and universities "are consistently putting up barriers to conservative speakers, conservative students and sometimes, even on occasions, conservative educators."
Walker noted that in his time as governor of Wisconsin, he also became all too familiar with the chilling of campus free speech. He said there is a major lack of policy enforcement on the matter at institutions across the nation.
"One of the biggest things is not only having a [free speech] policy, which many institutions don't have, but enforcing it. I found this to be true when I was in the state of Wisconsin. It was not enough to just say that you're for free speech," he said
"Colleges and universities and administrators say that — but they often don't do anything about it."
Walker described instances in which college students have interrupted conservative speakers at campus events as a prime example of the type of free speech violations the caucuses intend to combat. He said he supports protesting, but that interruptions encroach on free speech rights.
"You can certainly protest me on the way in or out of the event, but once people are inside, particularly a room or auditorium or some other classroom that has legitimately been reserved for this speech or this meeting, students or other visitors to the campus shouldn't be able to shout down and stop the speakers from being heard," he said.
"We see this time and time again across the country. They will claim it for free speech, they will put out these statements, but they do nothing to stop this from happening," Walker said.
MORE: Alumni withhold donations, demand colleges enforce free speech
IMAGE: Daily Signal screenshot
Like The College Fix on Facebook / Follow us on Twitter