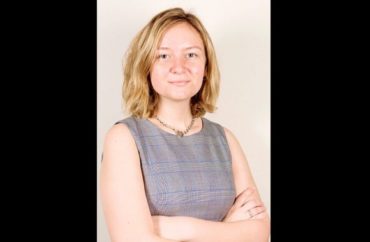 She's received 'countless physical threats to attack me once I am back on campus'
The Daily Orange at Syracuse University is keeping tabs on what its opinion columnists say when they're not publishing in the independent student newspaper.
Say something the editors don't like somewhere else, and you might find yourself out of a job.
That's what happened to Adrianna San Marco (above) after the student published a column in LifeZette, the website founded by Fox News host Laura Ingraham. Titled "Why institutional racism is a myth," the column shares a host of research on police shootings and crime statistics by race.
San Marco cites 2019 research that found "no evidence of anti-Black or anti-Hispanic disparities across shootings, and [that] White officers are not more likely to shoot minority civilians than non-White officers." (Earlier research by Harvard economist Roland Fryer, who is black, found similar results, although he found higher use of non-shooting force against blacks.)
She's more forceful when citing figures on blacks representing 13 percent of the population but more than half of homicides and robberies in 2017 FBI data, and that black men are represented among "cop killers" at five times their share of the population:
If blacks represent such a small percentage of the population why are they responsible for a large percent of crime? In fact, the Left's insistence on discussing race proportions is damning to their argument. …

The idea of institutional racism existing in the U.S. is a myth—and a dangerous one at that.
MORE: 'Defunding the police could cost thousands of black lives'
Daily Orange editor-in-chief Casey Darnell confirmed to Fox News media reporter Brian Flood that the newspaper canned San Marco for her column. He disagreed it was because she's an outspoken conservative, however, noting the Daily just hired a conservative replacement:
"Dismissing the existence of racism, whether institutional or otherwise, dismisses the lived experiences of people of color, especially our black community members. San Marco's article reinforces false and dangerous stereotypes of Black people as criminals, and dismisses that police officers kill black people at disproportionately higher rates than white people," Darnell said.

"We aren't afraid of controversial views, but we have a responsibility to avoid promoting harmful ones. We don't censor conservative columnists," Darnell added.
San Marco appears to have published just two columns in The Daily Orange this academic year, one each in April and March. Her LifeZette column was published June 5, and the editorial board's most recent column on June 11 – criticizing the administration for insufficient responses to "racist incidents" – doesn't mention it.
In addition to policing the opinions of its own columnists, The Daily Orange can also take credit for getting fraternity pledges suspended by posting leaked videos of Theta Tau's private satirical skits.
The university charged the fraternity with behavior that "threatens the mental health or safety of anyone" on campus, but the community only saw the skits because the student newspaper posted videos leaked from Theta Tau's private Facebook page.
Syracuse did not accuse the Daily of threatening the "mental health or safety of anyone" for its enabling role, however. A judge refused to require the university to honor its promised freedom of expression to students, saying the "mental health" provision overrides the contractual agreement.
MORE: 'The Daily' is responsible for Theta Tau's punishment
San Marco told reporter Flood that Darnell canned her for "racist undertones" in the LifeZette column just two days after it was published. She's received "private messages that thank me for voicing my opinion and reporting the truth" but also "a large amount of threatening and hateful messages":
My peers and professors have celebrated me being fired with some calling for my expulsion. Most disturbingly, I have received countless physical threats to attack me once I am back on campus. I don't foresee the upcoming semester being easy but I am hopeful no physical harm comes to me.
Her boss at the newspaper interrogated San Marco about whether she held "any 'extreme Republican views'" when she joined staff, and cited "other students he would refuse a platform to because of their opinions," she continued, wondering "how many other columnists were privately fired or had applications rejected because of their political views."
San Marco said she's done further research on the subject of her column, reading "studies attempting to disprove my arguments" from Syracuse peers and professors, but "[n]ow more than ever" she's confident in her conclusions.
Her incident is just the latest example of Syracuse administrators and gatekeepers such as the Daily "limiting dissent," she said, noting incidents against the College Republicans and Young Americans for Freedom.
Read San Marco's LifeZette column and Flood's Fox News report.
MORE: Syracuse rejects YAF chapter for requiring members to be conservative
IMAGE: Adrianna San Marco
Like The College Fix on Facebook / Follow us on Twitter