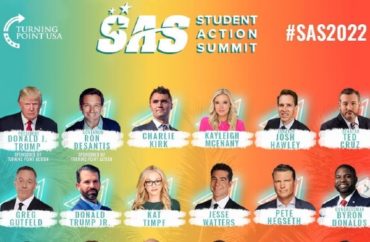 Free market student group calls conference 'premiere event for young conservatives in the country'
Turning Point USA's Student Action Summit, which will be held this weekend in Tampa, aims to train the next generation of conservative leaders.
"We believe the future leaders America needs will be in that audience and this event is one of the first stops on their path to gaining the education, the confidence, and the network needed to be successful," spokesman Andrew Kolvet told The College Fix via email.
Kolvet called the conference the "premiere event for young conservatives in the country."
The 5,000 attendees will have a chance to hear from "speakers like Donald Trump, Ron DeSantis, Ted Cruz, Josh Hawley, Rick Scott, Gov. Kevin Stitt."
Being surrounded by like-minded individuals and quality speakers "will literally change lives, futures, and careers," Kolvet told The Fix.
The free-market student group wants students this fall to focus on "how to navigate the radical tribal and racializing so prevalent in campus culture, and restoring a sense of pride and direction in the American way of life," according to Kolvet.
"Bodily and medical autonomy, courage in the face of inevitable smears and attacks, radical gender theory and cultural deconstructionism," were also listed as key areas of focus for the upcoming school year.
He told The Fix he wants students to leave the conference with a "restored belief in the Constitution and the Founders' ideals for self-governance, a return to values of faith, family, and individual virtue, and a push to get involved in local politics and civic engagement."
Those same values are of importance to one conservative student activist who plans to attend the summit.
MORE: Drake University denies Turning Point USA club for third time in six years
The president of Franciscan University of Steubenville's TPUSA chapter told The Fix that cultural and social issues are most important to her, and noted that many of the speakers address these issues.
"Turning Point USA has experienced a shift that includes the intersection of faith and politics," Celine Najm told The Fix. "The speakers and topics for this event are unafraid to address moral issues such as same sex marriage, transgenderism, birth control, abortion, and much more."
"In attending this event, I look forward to learning about policies, measures, and action items that young conservatives can incorporate in their activism to restore a moral nation," she told The Fix.
For Najm, there's a stress not only on moral reform, but religious rights as well. This is why she is "most excited to hear from Governor Ron DeSantis, who has been incredibly instrumental in ensuring the protection of youth in schools from destructive agendas."
She also praised DeSantis for "empowering people of faith to express themselves in settings that intentionally avoided and prohibited demonstrations of faith."
As a political science major, Najm says that local politics are important to her too, and "the opportunities present at such events empower students to engage in activism locally and draw attention to problems students face."
TPUSA plans to take momentum into the fall semester
Following the SAS conference, TPUSA hopes these activists will return to their campuses "more energized than ever and with the proper tools and training on how to defend conservatism on their campus."
Fall events are in the works, according to Kolvet.
"Turning Point USA does a campus tour featuring TPUSA Founder and CEO Charlie Kirk every semester and will be doing one this Fall with dates and locations to be announced after SAS," he stated in his email. "TPUSA also hosts and sponsors many additional one-off campus speeches with other incredible speakers."
MORE: Tulane students form 'human wall' to protest anti-censorship event
IMAGE: Turning Point USA/Instagram
Like The College Fix on Facebook / Follow us on Twitter