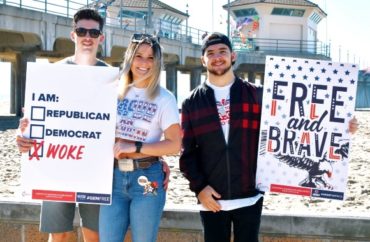 Former student says the university is firmly opposed to free speech
For the third time in the past six years, the Drake University Student Senate chose to not recognize the Turning Point USA chapter as an official club.
Students at the private Iowa university have tried since 2016 to get official recognition for their fiscally conservative, pro-capitalism club.
Recognition of the club allows it to reserve space on campus, apply for funding for events and have financial accounts to hold money fundraised.
"I think everyone has a right to their beliefs, but I do think there is a point where those beliefs do become harmful," one member said during the latest rejection of the club. Another said the conservative group "mak[es] people on campus uncomfortable and frightened for their safety" and consequently deemed it wrong to approve such an organization.
A current TPUSA employee who previously attended Drake before transferring to University of Iowa said the school is opposed to free speech.
"It's impossible to deny that Drake University is opposed to free speech—if they weren't, they wouldn't have spent the last 6 years battling with college students trying to establish a TPUSA Chapter," Amy Samuel told The College Fix through a spokesperson.
"I can speak from personal experience in saying that the discrimination I faced as a Drake student, in part, led me to pursue my passion for protecting free speech on college campuses here at Turning Point," the senior field administrative director stated. "So at the very least, I hope that this situation will help create more courageous conservative leaders who are willing to stand up against authoritarian tyranny."
The Fix reached out via emails and a text message to current Drake TPUSA leader Andie Morrisey but did not receive a response in the past two weeks. The Fix asked for comment and what steps he would take next.
The student senate did not respond to two requests for comment sent in the past two weeks to its general contact email. The Fix asked for information on the reasons for denial. Executive board members Morgan Coleman, Conor Oetzmann and Joseph Owens did not respond to an email on May 31 about the denial decision.
The university did not respond to two emails in the past two weeks for comment on if the denial violated the school's commitment to freedom of expression. The College Fix reached out to spokespersons Jarad Bernstein and Ashton Hockman.
The Foundation for Individual Rights in Education sent a letter on May 11 to the university and asked it to intervene.
"Drake has allowed the Student Senate to continuously infringe the expressive and associational rights of those students who aim to found a TPUSA chapter for years," FIRE stated. "This is not acceptable at a university that claims to protect students' expressive rights."
While students can "object to TPUSA's views" they should not "wield the authority of the Student Senate to shut down controversial speech by denying recognition."
"Accordingly, Drake must step in and grant the TPUSA chapter recognition, restore the students' rights, and end this cycle of viewpoint discrimination," FIRE stated.
The free speech group confirmed to The Fix that it has not received a response as of May 31 from Drake officials.
MORE: Student protesters crash TPUSA meeting
Editor's note: Associate Editor Matt Lamb assisted Amy Samuel's group while an employee of TPUSA.
IMAGE: Turning Point USA/Twitter
Like The College Fix on Facebook / Follow us on Twitter