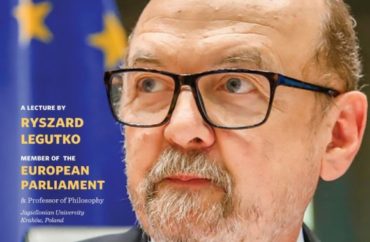 Headlines on Wednesday reported on a decision by Middlebury College administrators to abruptly cancel a talk by conservative Polish philosopher and politician Ryszard Legutko several hours before he was set to give his talk.
Administrators cited nebulous safety concerns as their reason. Middlebury College, after all, is the same campus at which American Enterprise Institute scholar Charles Murray and his faculty interviewer in 2017 were physically attacked, sending the latter to the hospital.
Earlier this week at the Vermont-based liberal arts college, many students reached a fevered pitch of outrage over Legutko's planned speech, going around calling him a "f*cking homophobe." They planned some sort of "celebration of queer identity" counter-protest to take place right outside the lecture hall, complete with the shuttling-in of protest participants, the Middlebury Campus newspaper reported.
Tension was high as "some Middlebury students and professors wrote an open letter demanding the university rescind its sponsorship. The liberal activists took issue with Legutko's pointed critiques of multiculturalism, feminism, and homosexuality, calling them 'homophobic, racist, xenophobic, [and] misogynistic,'" the Washington Free Beacon reported.
But on Wednesday, as word spread that the guest lecture was axed amid all the outrage, a professor helped facilitate Legutko's talk in something of an impromptu and clandestine manner.
"Rather than speak before an audience at the Kirk Alumni Center as planned, Legutko delivered his lecture to Political Science Professor Matthew Dickinson's 'American Presidency' seminar. The talk, initially intended for the nine students in Dickinson's class, became a pseudo-public event as students arrived over the course of the talk, which continued about 15 minutes after the class period ended," the Campus newspaper reports.
Legutko is a member of European Parliament and a philosophy professor at Jagiellonian University in Poland. He is author of the 2016 book "The Demon in Democracy: Totalitarian Temptations in Free Societies," which was to be the subject of his talk.
"Ryszard Legutko lived and suffered under communism for decades—and he fought with the Polish ant-communist movement to abolish it. Having lived for two decades under a liberal democracy, however, he has discovered that these two political systems have a lot more in common than one might think," the book's online description states.
The original guest lecture was co-sponsored by the Alexander Hamilton Forum series, the Department of Political Science and the Rohatyn Center for Global Affairs.
According to Dickinson, Legutko's semi-secret talk Wednesday was spur of the moment and took place only after a vote among students in his class agreed unanimously to invite him despite the college canceling the lecture, the Campus reported.
"Legutko delivered the lecture he was originally planning to give at the now-canceled event, though it was abbreviated for lack of time," the campus paper reported, adding he also took questions from the audience, a portion of which was recorded on live stream by the Campus.
Administrators were apparently displeased the guest lecture managed to survive despite their attempt to kill it. Provost Jeff Cason told the Campus that had officials known about Dickinson's plans to host Legutko, they would have advised against it "given our safety concerns."
As for Legutko's invitation to speak, Assistant Professor of Political Science Keegan Callanan defended it in an open letter published Monday:
As a young man, Legutko defied the dictates of the Soviet-backed tyranny in Poland when he served as editor of an illegal scholarly journal, Arka. He risked much for liberty and has a unique perspective on what it is like living under a tyrannical regime.

You will not be surprised, then, to learn that Prof. Legutko has recently addressed audiences of faculty and students at major U.S. universities without any controversy, and that he will speak to students at Colby College on Tuesday evening.

Some would prefer that we not have the chance to hear and to question Prof. Legutko and other heterodox scholars.

The Hamilton Forum takes a different view. We treat all Middlebury students as independent thinkers with a right to and capacity for free and open inquiry. We are committed to viewpoint diversity and freedom of thought. We believe that through the competition of ideas, each of us can better understand our own deepest convictions and make progress in the pursuit of truth. We believe that Middlebury students deserve to hear a multiplicity of perspectives, including the views of influential scholars with whom we might disagree strongly.

In short, the Hamilton Forum has no ideological litmus tests.
At least one student reacted online in anger to the fact that Legutko still spoke on campus despite the cancellation.
"Middlebury College, this is irresponsible and so disrespectful. How can you release an email cancelling both the lecture and protest only to allow Legutko to still speak on campus? I doubt this was 'impromptu', but it's telling that the Political Science Department was willing to lowball its community like this," the student posted.
MORE: Professor at conservative speaker's talk attacked by protesters, put in hospital
MORE: At college where violence greeted Charles Murray, students afraid to disagree
Like The College Fix on Facebook / Follow us on Twitter