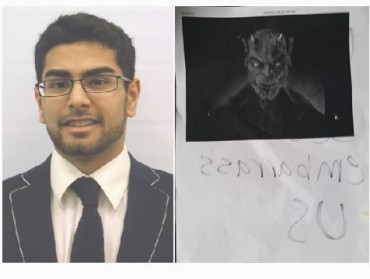 A College Fix Exclusive
UPDATE: Watch a video of the vandalism
A Muslim student at the University of Michigan who holds conservative and libertarian beliefs has been viciously attacked with vandalism left on his apartment door that called him a "dick" and "scum," told him to "shut the fuck up," and included an image of the devil as well as eggs and hot dogs.
The vandalism posted on junior Omar Mahmood's apartment door stated "you scum embarrass us," "you self-righteous dick," "you have no soul," "everyone hates you you violent prick," and other messages.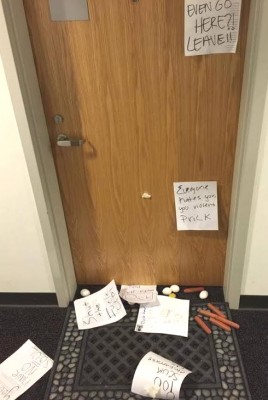 Some of the warnings were posted on paper that included a print out of Mahmood's satirical essay he wrote recently for the conservative campus publication the Michigan Review that poked fun of liberals' victimhood mentality. That column, titled "Do the Left Thing," caused an uproar among some on campus and triggered his termination as a columnist from the mainstream Michigan Daily student newspaper.
The vandalism was discovered Friday morning by Mahmood's roommates. They live in an apartment complex that mostly houses students just outside the campus property.
In an interview Friday with The College Fix, Mahmood, 21, said he is "taken aback" by the attack.
"I feel targeted," he said.
One of the images found at his door was a picture of him taken from his Facebook profile with his eyes X'd out and the words "dickhead" and "you aint shit," he said.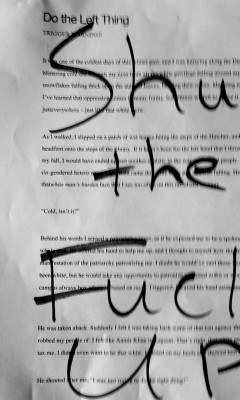 "There was a cracked egg thrown at the door, hot dogs thrown at the door," Mahmood added. "The messages were clearly threatening. These people don't know me personally, so I don't know why they would do this with such vengeance. This seems like a very personal attack."
Mahmood is known on campus as a Muslim student who does not readily identify with his Islamic peers' political stances. He acknowledges that his views are not in line with most mainstream Muslims, but added he thinks that's "ironic."
"I think most Muslims have a lot in common with the principles of American conservatism," he said. "I have libertarian and traditionalist views, and I think those are very compatible with Islam. Muslims should be in line with them. I don't know why we have to side with the more angry activists who are morally depraved."
Jennifer Kabbany is editor of The College Fix. (@JenniferKabbany) College Fix reporter Derek Draplin contributed to this report.
Like The College Fix on Facebook / Follow us on Twitter
UPDATE: Watch a video of the vandalism