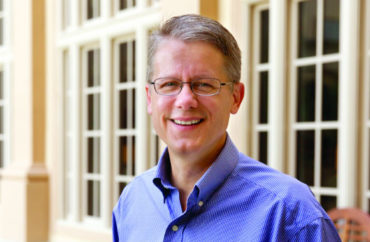 University of North Carolina-Wilmington criminology Professor Mike Adams' death has been ruled a suicide by police.
Jerry Brewer, a spokesman for the New Hanover County Sheriff's Office, stated in a news release Monday that Adams died from a self-inflicted gunshot wound, adding "No other people were in the home and foul play is not suspected."
In the months leading up to his death, Adams was subjected to a massive online cancel culture bullying campaign to vilify his reputation and force his employer to fire him.
At issue were two tweets his detractors claimed were racist and sexist because he mocked women's studies and compared a Democratic governor to a slave master (all in the context of draconian COVID-19 regulations in North Carolina).
Four different online petitions were launched in June to get him fired.
One petition signed by more than 60,000 people called Adams "a thorn in the side of UNC Wilmington" and vaguely accused him of threats toward minorities.
"His being employed at this university cheapens any and all attempts to stand in solidarity with any minority that has been oppressed in this country," the petition stated.
Another Change.org petition that received nearly 25,000 signatures stated "Adams has a history of spewing misogynistic, xenophobic, transphobic, homophobic, racist rhetoric." A third signed by some 6,000 people argued "College campuses should not be a place where student's identities are rejected and threatened by an educator." A fourth petition that got several dozen signatures falsely accused him of "targeting … teenagers."
Next, celebrities with ties to the region joined in the crucifixion, WECT reports.
Among them was Orlando Jones, "who lives in Wilmington and starred in the Fox television show 'Sleepy Hollow,' which was locally filmed," the station reports, adding:
In a June 7 tweet, Jones shared a CNN article about the Adams situation and stated "As a resident of Wilmington NC & father. Mike Adams, a professor @UNCWilmington educating young minds is a PROBLEM!"

Sophia Bush, an actress who starred in the television show "One Tree Hill" which was also filmed in Wilmington, quoted Jones' tweet and added, "Ummm. @UNCWilmington. How do you employ this person?!? The racism and misogyny are atrocious. This feels like another change for Wilmington that the #OTHfam could make some noise about."

Another "One Tree Hill" alumna, Hilarie Burton Morgan, also took to Twitter demanding Adams' dismissal, saying "his harassment+hostility toward women and POC is unconscionable." Additionally, Morgan called on "One Tree Hill" fans to avoid attending UNCW until Adams is removed.

"Our fans go to school at @uncw because we painted a pretty picture on OTH. Our show didn't stand for the hate that #firemikeadams promotes," Burton added in another tweet.
Using the hashtag #FireMikeAdams, many more piled on.
Looking at all you @DavisEcology students who are fighting against racism at our university, there's a lot more work to do. This disturbingly racist, sexist, xenophobic fuck is a Professor of CRIMINOLOGY at @UNCWilmington. Enough is enough. #FireMikeAdamshttps://t.co/chRKDpNcx5

— Mandy Frazier (@mandy__joyce) June 7, 2020
Also in June, WECT reports, some 270 criminology professors and graduate students from across the country called on the university to fire Adams in an open letter which stated in part:
Professor Adams hides behind the veil of 'free speech,' but through his rhetoric on Twitter and his column he has harassed, threatened, and spread hateful speech against students and faculty. In 2016, he wrote a column titled "A 'Queer Muslim' Jihad", about a former UNCW student in which he writes, "her claims to be a 'queer Muslim' are probably part of an act designed to fit into as many victim categories as humanly possible. Sometimes I wonder whether LGBT stands for Lesbian, Gay, Bisexual, and Thespian." He has also tweeted "Statistics show that 10 out of 10 aborted black babies are unarmed" as well as "When you write the university asking them to fire me don't forget to leave a mailing address so I can send you a box of panty liners. …
All the pressure prompted university leaders to force Adams out. Officials knew they could not fire a tenured professor — especially one who won a discrimination lawsuit against the school in 2014 — so administrators reached a retirement settlement package with Adams for more than $500,000. He was set to retire Aug. 1.
His longtime employer washed its hands of Adams and his decades-long and distinguished academic career, in which he won teaching awards, was praised by many former students, and had an esteemed stack of research to his name.
"This resolution is less damaging to UNCW than leaving the situation unresolved," UNCW Chancellor Jose Sartarelli stated at the time. "In addition to saving money, the settlement will prevent the continued disruption to our educational mission, reduce concerns around campus safety, and lessen the harm to the institution."
It may have been all too much for Adams, as pundit Mark Steyn points out:
He "seemed like" a happy warrior, but who knows? It's a miserable, unrelenting, stressful life, as the friends fall away and the colleagues, who were socially distant years before Covid, turn openly hostile. There are teachers who agree with Mike Adams at UNCW and other universities – not a lot, but some – and there are others who don't agree but retain a certain queasiness about the tightening bounds of acceptable opinion …and they all keep their heads down. So the burthen borne by a man with his head up, such as Adams, is a lonely one, and it can drag you down and the compensations (an invitation to discuss your latest TownHall column on the radio or cable news) are very fleeting. …

… a tireless and apparently "happy warrior" – exhausted by a decade of litigation, threats, boycotts, ostracization and more – found himself sitting alone – and all he heard in the deafening silence of the "silent majority" was his own isolation and despair. A terrible end for a brave man. Rest in peace.
Even after his death, some did a victory lap, including one of his UNC Wilmington colleagues, Professor LJ Randolph Jr., who describes himself in his Twitter bio as an "advocate for social justice pedagogy."
Please do mourn Mike Adams's death, but don't sugarcoat his rhetoric as merely "controversial" or "racially charged." He was blatantly racist, homophobic, and sexist, and his own words left no room for interpretation on any of that.

— Dr LJ Randolph Jr (@ProfeRandolph) July 23, 2020
David French, Adams' attorney during his famous court case against UNCW, noted how even in death the cancel culture mob is vicious.
"There it is—a man's life largely defined by the worst possible characterization of his worst tweets. You can read them. They're linked in the articles. But that's a fraction of Mike's story. It's the most graceless way possible to describe a man who faced an avalanche of unjust hatred in his life, who had to fight for years to vindicate his most basic constitutional rights, and who helped mentor thousands of young conservative Christian students who often feel isolated and alone on secular and progressive campuses," French wrote.
French also weighed in on the pressure Adams must have felt in his final weeks:
Many of us labor under a dreadful misconception about the men and women who enter the public arena—especially those who fight online. "They're tough," we say. "If they can't handle the heat, they should walk away from the keyboard," we think. Then, when they truly make us mad, we say, "It's time to hold the monster accountable."

It never occurs to many of us—or maybe it occurs, but folks don't care—that many people online are operating from a place of pain. The public bravado conceals a private vulnerability.

In reality, we are not created to endure an avalanche of hate. Few people have the thick skin they might believe they possess.
Despite the hate directed at Adams, many also appreciated and respected him, and he was remembered as a freedom fighter, a student advocate, a passionate educator, and a staunch defender of the unborn and Constitutional rights.
MORE: Colleagues, friends remember Professor Mike Adams: beloved freedom fighter, champion of First Amendment
Like The College Fix on Facebook / Follow us on Twitter