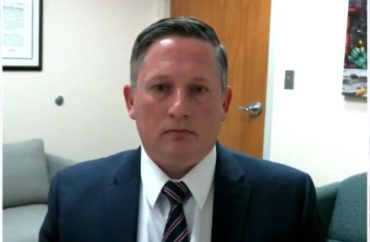 Former professor maintains Miami dean refused to renew his contract after he didn't apologize for his tweets
A pro-Trump professor who faced criticism from the University of Miami Law School reaffirmed his belief that former Dean Anthony Varona refused to renew his contract for not apologizing over tweets about the 2020 Presidential election and other social issues.
Varona's attorney, Debra Katz, denied that her client refused to renew Dan Ravicher's (right) contract. She told The College Fix on June 15 via a spokesperson :
Dean Varona did not "boot" OR "refuse to renew" Professor Ravicher. In fact, Professor Ravicher was on the class schedule to teach in the spring semester and the law school planned to have him teach through at least the next academic year. The decision of whether to renew Professor Ravicher would not have been made until sometime in fall 2021, and his support of President Trump would have been irrelevant to that decision.
But Ravicher said that Varona's account is untrue and he maintains that the former dean did force him to leave.
The conservative law professor said that the former dean told him directly that if he "did not retract and apologize" for his political tweets, then his contract "would not be renewed." His contract to teach at Miami ran until June 2022.
"Not that it 'might' not be renewed, that it absolutely 100% would not be renewed. There was no doubt in what he told me. It was done. My job was over," Ravicher told The College Fix in an email on June 22.
He continued:
The dean says my "support of President Trump would have played no role in the decision" to renew my contract, but he noticeably doesn't say my tweets and other public statements wouldn't play a role. Sure, if I want to support President Trump, so long as I keep my mouth shut, or at least don't say anything he or other liberals find offensive (which is basically anything pro-Second Amendment, pro-life, pro-voting integrity, etc.), then I can keep my job. That's the line he's drawing. He won't say my pro-Trump, and conservative tweets won't affect my job in any way, because the truth is they do and will.
The former Miami professor said he knew his contract wouldn't be renewed because "I was not going to retract or apologize for anything I said." Ravicher also said that Varona told his students they could elect to change the letter grade to pass/no pass because of Ravicher's "impartial grading," following his tweets.
"You'll note in the emails between him and me he says I have to do repair work and it's not too late," Ravicher said. "That confirms what he told me, which is that if I didn't do things such as apologize and retract, I would not be able to save my job."
Professor accused him of impartial grading
He disagreed that he graded students different based on political views.
Ravicher refuted the former dean's claim, saying course evaluations, exit interviews with students, and other evidence "overwhelmingly show[ed] I was one of, if not THE best and fairest professor at Miami Law."
"I dedicated 15 years of my life to law school teaching, and I was damn good at it, and I loved it," Ravicher said.
He said:
That career is over now thanks to him, his decision to not renew my contract based on extramural speech that was supposedly protected by the university's faculty manual, and his decision to defame my academic integrity.
The law professor has found employment elsewhere, but he said he always wanted to stay at Miami.
"I want to teach law. I want to teach law at Miami Law," he told The College Fix.
"But I don't want to have my contract renewal jeopardized or my academic integrity questioned based on my right to express conservative and pro-Trump views," Ravicher said. "In my opinion, this is the result the Dean intended to and hoped to cause, my leaving under circumstances for which he can say he wasn't responsible."
MORE: Miami law student says she hates white people
IMAGE: Fox News/YouTube
Like The College Fix on Facebook / Follow us on Twitter