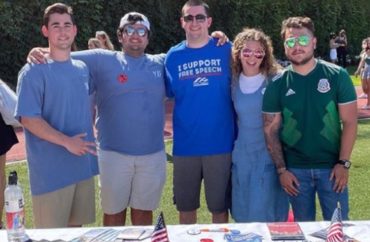 Student groups cannot let liberals push them around, group says
A group of conservative students at Boston University, the twelfth most liberal campus in America, shared with The College Fix recently how they fight for conservatism.
The Fix spoke with Boston University's Young Americans for Freedom chapter (pictured) to ask how it handles campus liberalism.
"Liberal bias is a problem at BU, to some degree, and it's universally a problem on college campuses," the group told The Fix via Instagram messaging.
"Someone always has a story," of liberal bias to share at the meetings, BU YAF said. Sometimes the story warrants a social media response.
"We hear every week of professors relentlessly criticizing the right, and we finally saw it on full display in Professor Zatlin's comments to BU Today," the organization said.
The reference is to an article by the university's media team titled "Are Trump Republicans Fascists?"
History Professor Jonathan Zatlin said they are not fascists, even though Republicans like Fox News Host Tucker Carlson and Georgia Congresswoman Marjorie Taylor Greene "think violence is good" and "think racism is good."
"And the Republican Party is in danger of becoming the party of violence, antidemocracy, and racism," Zatlin said.
"There is no such thing as fascism on the American left," Zatlin said. He did not respond to a College Fix request for comment sent in the past week and neither did Boston University's public relations office.
The Trump supporters we know here at BU are from all walks of life and care deeply about their country. This isn't tolerance, this is a prejudiced attack on many of your own students. pic.twitter.com/ot8yk0ZgyY

— YAF at Boston University (@YAF_BU) February 11, 2022
"The Trump supporters we know here at BU are from all walks of life and care deeply about their country. This isn't tolerance, this is a prejudiced attack on many of your own students," the conservative student club said on Twitter, in response to the comments.
Pressure tactics can also effect change, as the group learned in 2019, after Boston University tried to charge security fees for a speech by Ben Shapiro.
"The school initially refused to cover security costs for the event even though it was standard procedure," the group said. "The school relented after we put pressure on them, and we did have some members of the administration help us tremendously in putting the event together."
"[W]e were still met with obstacles every step of the way from students and administration during that process," the group told The Fix.
The group said that its meetings allow conservative students to strategize how and when to "push back in a respectful way" when a professor or classmate "promote[s] leftist ideologies."
Sometimes "larger incidents" such as the Professor Zatlin comments, required the club to "go more on the offensive front by exposing the hypocrisy to the university itself and to the public."
MORE: Meet two professors fighting diversity initiatives
"There have been a few times in the past couple of years where we had to do this and we believe the university has been responsive," the group said."[W]e hope that continues so that animosity against the conservative community diminishes not only at BU but all over the country."
The group said this can include "letters to the administration" and "putting out statements" to defend "people in the community [who] are being attacked…for their political views."
"We have done this a few times over the last couple of years and the university has been responsive and extremely helpful!" BU Young Americans for Freedom said.
The club also must sometimes respond to one of the university's more famous professors, Ibram Kendi. The author of "How To Be An Antiracist" has received millions of dollars for his center on campus with minimal output.
"During the [fall 2020 semester] students made sexist comments about members of another conservative club on campus," the organization said. This happened "simply because that club posted a statement condemning Ibram X. Kendi's comments about Amy Coney Barrett and adoption."
Kendi said in September 2020 that white parents who adopt black children are "colonizers" in apparent reference to then-Judge Amy Coney Barrett, who adopted two children from Haiti with her husband.
MORE: Check out the Campus Cancel Culture Database
IMAGE: Boston University YAF/Instagram
Like The College Fix on Facebook / Follow us on Twitter