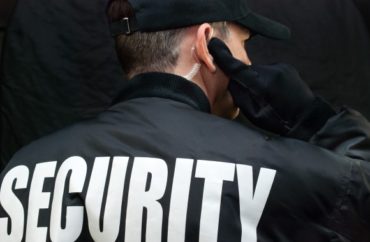 UPDATED
Once again, right-of-center students at St. Olaf College harassed
NORTHFIELD, Minn. — Several conservative students at St. Olaf College had their lives turned upside down Sunday after a false report that alleged that they had guns and ammunition in their dorm prompted campus public safety officers to enter their home and search it.
Despite the students telling the officers they had no guns and no ammunition and felt they were the victims of a malicious prank — as right-of-center students have faced open hostility on campus for several years — the officers continued to raid the dorm and upend some of its contents.
The officers had been unaware that they were headed into a dorm full of College Republicans as they initiated the search, according to Carl Lehmann, the college's attorney.
The entire leadership of the College Republicans at St. Olaf College lives together in a shared pod-style dormitory comprised of several bedrooms with a common living room. It was this pod searched by officers Sunday afternoon.
"We essentially got swatted, it was just a prank or an attack, something made to intimidate us, something made to make it difficult for us to study for finals and to make us uncomfortable here on campus," said Chris, one of the students who lives in the dorm.
"The raid on our pod was disruptive and caused needless anxiety, especially given that finals are ongoing," said Nick, who also lives there.
Nick and Chris, as well as several other students interviewed by The College Fix who live in the pod investigated by officers, asked that only their first names be used to protect their identities from further harassment on campus.
Public safety officers at St. Olaf College are "charged with enforcing college policies as well as local and state laws where applicable that occur on college property," according to the college's website. Although they are not licensed police officers, they can make arrests pursuant to state laws governing citizens arrest, it states.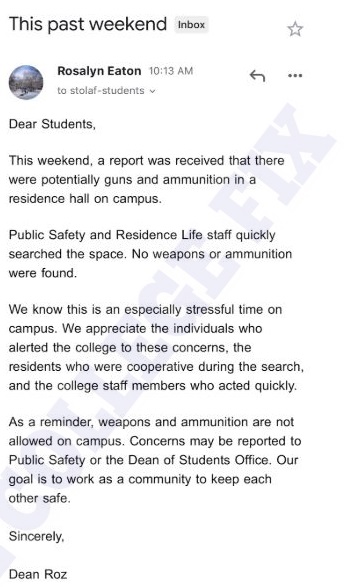 The officers came to the College Republicans' pod after an anonymous report they had guns and were a danger to campus. A campus spokesperson did not respond to a request for comment from The College Fix.
However a public statement to students put out by a dean on Tuesday actually praised those who called in the false threat, this despite the fact that officers had found nothing and the College Republicans told administrators they suspect they were targeted for their beliefs.
"We know this is a stressful time on campus," reads the statement, authored by Dean Rosalyn Eaton. "We appreciate the individuals who alerted the college to these concerns, the residents who were cooperative during the search, and the college staff members who acted quickly."
"As a reminder, weapons and ammunition are not allowed on campus."
Several St. Olaf College Republicans told The College Fix that they understand why campus security had to perform the raid, which disrupted the living space of the six residents, but added they feel the false and anonymous report that triggered it was politically motivated.
"We didn't get any heads up at all," Chris said, adding the contents of his closet were removed as part of the search. "They wouldn't tell us anything other than that they were searching for firearms, which obviously we don't have because we live on campus."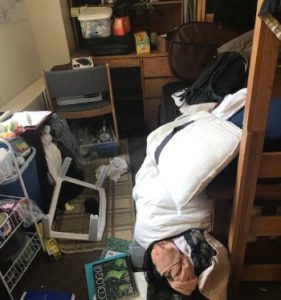 Some rooms were more thoroughly searched than others. While some rooms were left pretty much unscathed, others faced much more disruption.
(Pictured: One of the rooms after the search. Lehmann, the college's attorney, told The Fix after publication that officers say the room "was a mess when public safety started but the picture … shows the room in even greater disarray than it was in when the search began and ended." Students, however, told The Fix that is how the room looked right after the search ended and is not embellished.)
During the search, which lasted more than an hour, anybody who entered or exited the pod was frisked and had their bags searched, the students told The Fix.
Ben, another student who lives in the pod, said the whole incident was troubling.
"It was disturbing to have several officers knock on our doors to inform us that our rooms were going to be searched because another student had reported all of us for having guns in our rooms," he said. "We were locked out of our own rooms while they searched through everything. Our rooms and possessions had been roughly handled and were strewn across the floor."
Nick said it's clear why their pod was targeted: "Most of us in the pod are conservatives involved with the College Republicans."
Dakota, who is actually not a conservative but lives in the pod, said he is frustrated, too.
"I'm not a conservative in any way, but somehow I've been caught in the crossfire of this bullshit," he told The Fix. "I understand that this is how public safety has to do their job but … I'm more upset with the campus body in general to make such a false claim and disrupt one of the most important times of the semester for us."
"I think it's unfair that false claims like this can be made without any justification and not be punished or held accountable in any way," he said.
While Dakota may not be used to being the target of harassment on campus, conservative students at St. Olaf College are no stranger to it.
For the last several years they have voiced concerns about the treatment the receive on campus, including sounding the alarm in 2017 that they were being "violently threatened."
In 2018, their pro-conservative display was ripped down by peers. Also that year campus officials refused to allow Ben Shapiro to speak on campus despite months of planning for the visit. Earlier this year the 2018-19 leader of the St. Olaf College Republicans described the roadblocks and pushback she faced her entire four years at the private, liberal arts school.
Sunday's incident is also not an outlier when it comes to threats that prove to be false at St. Olaf. In May 2017, a massive protest engulfed St. Olaf College over racist notes found on campus. Later it was proven that the main "racist note" that had launched the hysteria was a hoax, written by a black, female student.
As for Sunday's raid, students told The Fix they were unable to focus on their final exams Monday.
"I brought up the fear of this type of issue happening again and they [administration] recognized the fact that if students call in these types of things again that they will come by and search again," Chris said.
The intimidation tactic is already working. Peter, another student who lives in the pod, described the whole experience as demoralizing, and said he may keep a low profile in the future.
"I always try to be a good person, to represent my views well and to give an ear to and appreciate people who share their different viewpoints with me," Peter told The Fix. "After this incident I'm tempted to retreat into secrecy completely for the rest of my stay in college, to never speak up and add my conservative voice to the mostly liberal St. Olaf College. The raid has dampened my spirits."
CORRECTION: This article has been amended to clarify that officers did not trash the pod and that the rooms were left largely intact. It also clarifies that the officers were unaware that they were headed into a dorm full of College Republicans as they initiated the search. 
MORE: The tale of a fake hate note at St. Olaf College
IMAGE: David Stuart Productions / Shutterstock
Like The College Fix on Facebook / Follow us on Twitter